After more than two years of testing their technologies in laboratories and in the Lake Simcoe watershed, the four finalists in The George Barley Water Prize were announced today at the Epic Hall of the Toronto Reference Library.

"These finalists represent our best hope for solving the algae crisis that is choking waterways worldwide," said Eric Eikenberg, CEO of The Everglades Foundation, which is hosting the competition.

The George Barley Water Prize offers a $10-million incentive award to find a new technology capable of removing phosphorus from water supplies. For a 90-day stretch from February to May, 2018, these nine teams of scientists, engineers, and entrepreneurs—narrowed down from an original field of 104 international competitors—have been testing their technologies under cold weather conditions on The Holland Marsh. The four remaining teams will now advance to the final phase of the competition, called the"Grand Challenge, at Lake Jesup, near Orlando, Florida.

"At Lake Jesup, the four finalists—University of Idaho, Clean Water Machine; Wetsus NAFRAD; Greenwater Solution Inc.; and The U.S. Geological Survey, Leetown Science Center—will engage in 14 months of intensive field testing under moderate and warm weather conditions," Eikenberg said. "These final four teams will need to prove their technologies' ability to work in both freezing and warm temperatures. This will be their opportunity to showcase the global applicability of their solutions."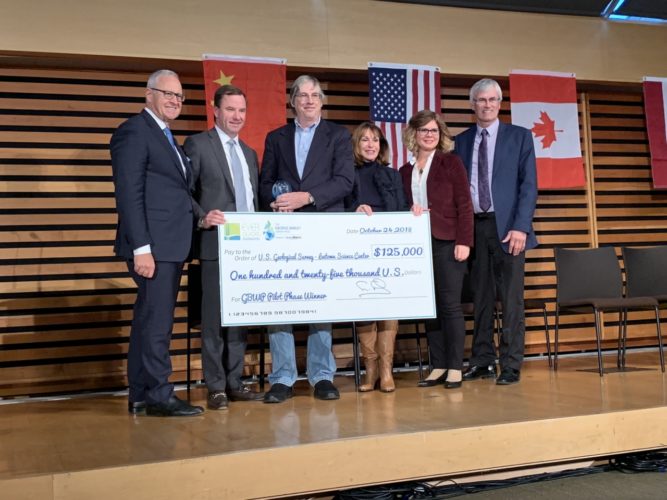 "It's clear groundbreaking innovation is needed to solve for harmful algae blooms caused by excess phosphorus," said Jim King, president of The Scotts Miracle-Gro Foundation. "While our company removed phosphorus from routine lawn products a number of years ago, The Scotts Miracle-Gro Foundation continues to stand behind this race for a solution to phosphorus pollution as it enters its final stage, a chance to solve this global problem, once and for all."

Runoff from the long-standing use of phosphorus-based fertilizers is extensive. So much so that scientists have evidence that even if its use were to be eliminated altogether, there is so much of the mineral already stored in water and soil that it would continue to be a serious pollutant, creating algae blooms for decades, if not centuries, to come.

"Using today's technologies, it would cost upward of $3 trillion to reduce the current worldwide flow of phosphorus by just 10 per cent," said Loren Parra, director of the Barley Prize. "Living and working here in Florida, we could certainly benefit from a solution and we are excited, hopeful and anxious to see what comes from the Grand Challenge."

The George Barley Water Prize is hosted by The Everglades Foundation in association with the Scott's Miracle-Gro Foundation as presenting sponsor, the National Fish and Wildlife Foundation, the Ontario Ministry of Environment, Chicago Community Trust, the Knight Foundation, The Field Museum, and Xylem, Inc.