At the start of April, Ryerson University welcomed Steven Liss as the new vice-president, research and innovation.
An internationally recognized researcher from Queen's University, in the area of environmental biotechnology and water and wastewater microbiology, he will guide the Ryerson research enterprise.
From 1988 to 2007 he was a faculty member in the Department of Chemistry and Biology and associate dean for the Faculty of Engineering, Architecture, and Science (research, development and science programs). He will be joining the Department of Chemistry and Biology in the Faculty of Science as a tenured, full professor.
Prior to joining Queen's, Steven was associate vice-president research at the University of Guelph, and briefly served as acting vice-president research. His positions at three dynamic and distinct institutions have given him experience with a broad range of scholarly, research and creative activities in the humanities, social sciences, natural and physical sciences, health and life sciences, engineering and areas of professional study including law, education and business.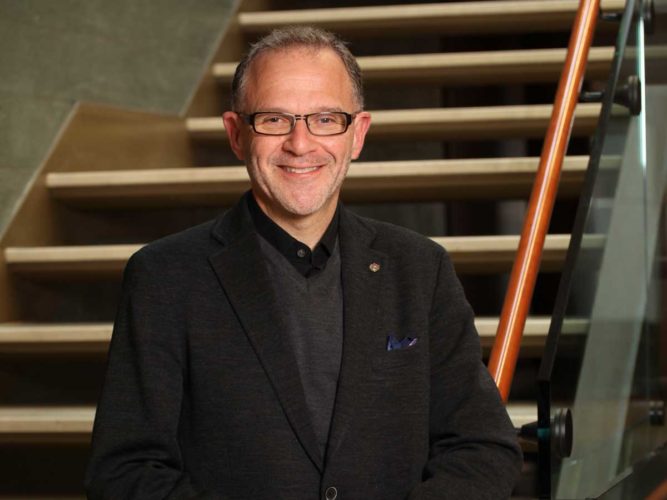 Steven earned his master's and Ph.D. in applied microbiology and food science from the University of Saskatchewan, and his bachelor's in microbiology and immunology from Western University. His interdisciplinary research encompasses environmental biotechnology and engineering, applied microbiology, wastewater and water management (municipal, industrial and agricultural applications), and fate of contaminants (pathogens, nutrients, and chemical) in engineered and natural environmental systems. He has led numerous strategic programs involving a range of collaborators, government and industry partners.
"I am excited to have the opportunity to contribute to Ryerson's future," said Steven. "The university is positioning itself as a leader in teaching, experiential learning, research and innovation. I look forward to working with President Lachemi and Ryerson's leadership team to strengthen and expand regional, national and global collaborations, generate research impact, advance innovation and the student experience, and attract and retain outstanding faculty and staff."
The vice-president, research and innovation reports to the president and is a key member of Ryerson's senior leadership team.