The Manitoba Government is increasing its investment by $3 million in the important work of Manitoba's Watershed Districts Program, Environment, Climate and Parks Minister Jeff Wharton announced today.
"Our government is proud to support the Watershed Districts Program, which plays a vital role in building Manitoba's climate resiliency and improving the health of our watersheds," said Wharton. "We are pleased to partner with our 14 Watershed Districts in this successful program, which is essential to ensuring prudent management of Manitoba's water resources."
The Watershed Districts Program is a voluntary partnership between Manitoba and municipal governments based on local, grassroots decision-making, the minister noted.
This year, the province will expand program support by $570,000, for a total of $6.443 million.
The Manitoba government is also establishing the Manitoba Watershed Districts Capacity Fund, administered in trust by The Winnipeg Foundation. Annual revenues from this new $2.5 million fund will provide a stable source of funding to support technical work, operations, communications, governance and watershed planning efforts for districts and the Manitoba Association of Watersheds.
"Manitoba Association of Watersheds (MAW) is proud to support watershed districts and appreciates the establishment of the Manitoba Watershed Districts Capacity Fund," said Garry Wasylowski, MAW board chair. "Part of our vision is to ensure that Manitoba's watershed districts have the tools and resources they need to be effective managers of water and land throughout the province, and this newly established fund is a critical resource to help us accomplish this goal."
The establishment of the new fund, along with the increased program funding, build on the Manitoba government's previous commitments to watershed districts. As of April, 109 municipalities were partners in the program, covering 88,438 square kilometres of municipal Manitoba.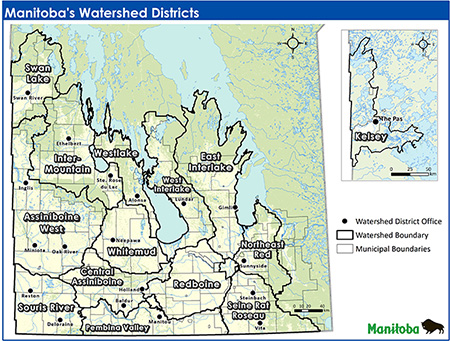 In addition, the minister highlighted the release of a new video showcasing Growing Outcomes in Watersheds (GROW) projects implemented by producers in four watershed districts at https://youtu.be/EF5TxanLyBA.
"Without the hard work of participating producers and local watershed districts, these and many other local GROW projects would not be possible," Wharton said. "The new video is an important communication tool for the province, districts and producers to share information on our collaborative work through GROW to improve water quality, build resilience to flood and drought, sequester carbon and enhance wildlife habitat."
As the local delivery agents for GROW, watershed districts provide agricultural producers with opportunities to enhance ecological goods and services on working landscapes.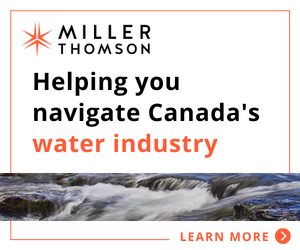 "We are seeing more extreme events from last year's drought to this year's spring rains and floods," said Harold Janzen, member, Seine Rat Roseau Watershed District. "When the government announced GROW, for us, it was gold, as we now have a program that is sustainable and provides a significant boost in long-term funding. Recent expansion efforts by Manitoba furthers our ability to deliver watershed-based programming to more landowners in Manitoba."
More information on the Watershed Districts Program including GROW delivery is available at www.manitobawatersheds.ca.