Finance Minister Bill Morneau released the 2018-19 federal budget today in Ottawa today. The budget featured a wide range of new spending, including many line items of relevance to Water Canada readers.
Infrastructure
One major change was a delay in infrastructure spending. There will be $7.2 billion less spending on infrastructure than was proposed through 2019.
"The government is claiming an equivalent amount of infrastructure money will be spent later in the fiscal horizon, financed by lower departmental spending down the line," reported Bloomberg news.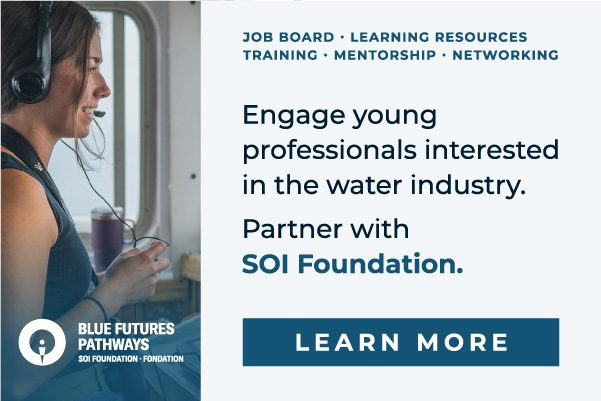 Fundamental research
Budget 2018 promised, "the most new funding for fundamental research through the granting councils in Canadian history."
"The Government proposes to invest $925 million over five years, starting in 2018–19, and $235 million per year ongoing, including:
$354.7 million over five years to the Natural Sciences and Engineering Research Council (NSERC);
$354.7 million over five years to the Canadian Institutes of Health Research (CIHR).
$215.5 million over five years to the Social Sciences and Humanities Research Council (SSHRC);
$210 million over five years, starting in 2018–19, with $50 million per year ongoing, for the Canada Research Chairs Program;
$1.3 billion for equipment and technology for university-based researchers;
Significant consolidation research programs and granting agencies.

Federal science
The Budget proposes a new model of cross-departmental collaboration in science, with few details about how it will be achieved. "Rather than work in silos, this new approach to federal science and discovery will look to bring together federal scientists and science facilities across government."
Funding for federal research included:
Approximately $500 million over six years for oceans and freshwater science;
$100 million to support agricultural science research and innovation, with a focus on addressing emerging priorities, such as climate change and soil and water conservation;
$2.8 billion for new federal research centres;
$139 million over five years to federal laboratories;
$5.1 million per year to POLAR Knowledge Canada 
Innovation
The budget laid down plans to increase total overall funding for innovation programming, but  significant amalgamation in the total number of business innovation programs under four flagship platforms:
Industrial Research Assistance Program
Strategic Innovation Fund
Canadian Trade Commissioner Service
Regional development agencies
Specific details include:
The Strategic Innovation Fund, Venture Capital Catalyst Initiative, Canada Small Business Financing Program, Innovation Superclusters Initiative, and Sustainable Development Technology Canada will remain as independent programs.
Canadian Trade Commissioners Service will be "enhanced" to grow our country's exports 30 per cent by 2025. 
A new Women Entrepreneurship Strategy will help them grow their businesses and to remove barriers to their success. 

First Nations, Inuit, and Métis relations
The Government restated its commitment to end all long-term drinking water advisories on public water systems on reserve will be lifted by March 2021.
Budget 2018 builds on prior investments and proposes:
An additional $172.6 million over three years, beginning in 2018–19, for water infrastructure with 25 additional projects being completed by 2020 rather than 2021.
 $101.5 million over five years, starting in 2018–19, to support capacity development for Indigenous Peoples. Funding would be made available to Indigenous groups to support activities that would facilitate their own path to reconstituting their nations.
A further commitment to adhere to international human rights standards, including the United Nations Declaration on the Rights of Indigenous Peoples (UNDRIP)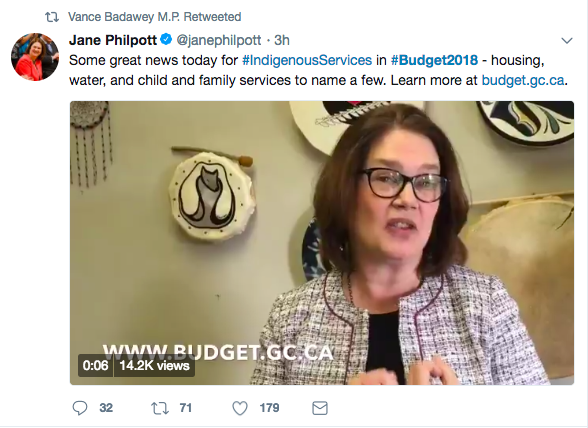 Conservation
The federal government will invest $1.3 billion over 5 years to support biodiversity and protect species at risk. That will include $500 million to create a new $1 billion Nature Fund to secure private land, support provincial and territorial species protection efforts, and help build Indigenous capacity to conserve land and species, for our benefit and the benefit of future generations.
$167.4 million over five years, starting in 2018–19, to Fisheries and Oceans Canada, Transport Canada and Environment and Climate Change Canada;
$1 billion over five years to support the proposed new impact assessment system and Canadian Energy Regulator; increase scientific capacity in federal departments and agencies; implement the changes required to protect water, fish and navigation; and increase Indigenous and public participation.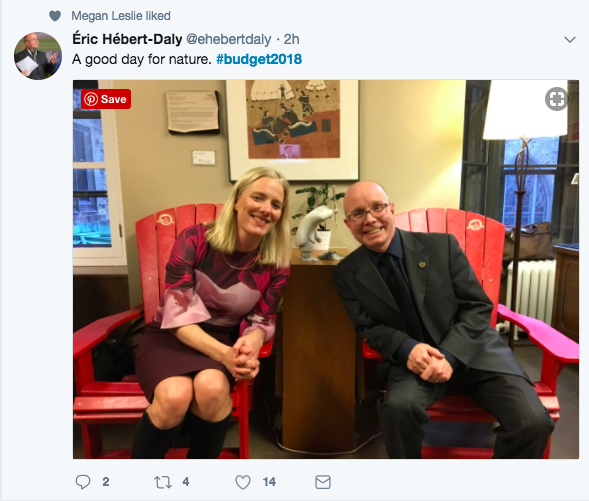 Weather and water monitoring services
$40.6 million over five years, starting in 2018–19 to complete the modernization of Canada's weather forecast and severe weather warning systems and maintain emergency management organizations that prepare for and respond to severe weather;
$69.5 million over five years, starting in 2018–19 to go towards water stations, improve services for long-range water forecasts, test and implement new technologies and expand technical and engineering capacity;
$9.8 million over five years, starting in 2018–19 to support the operation of water stations that are cost-shared with provinces and territories.
Sustainable Development Goals
Budget 2018 also proposed the establishment of a new Sustainable Development Goals Unit, with funding for monitoring and reporting activities by Statistics Canada.
Critics of the Budget have pointed out that it will lead to an $18.1 billion deficit.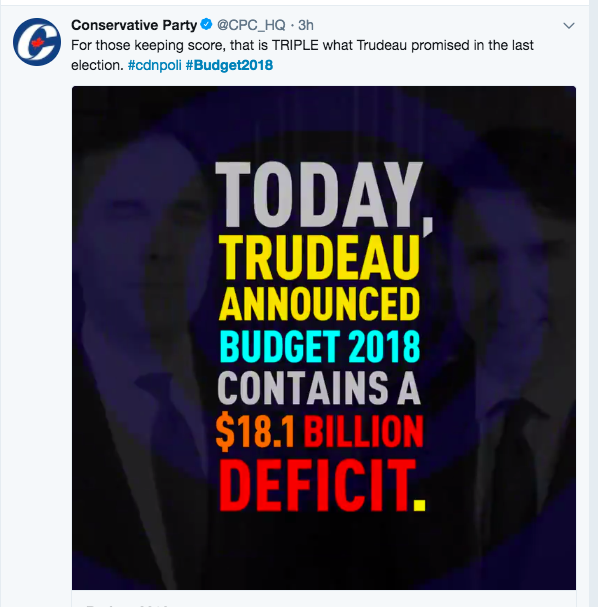 The full text of the 2018 budget can be accessed through the Government of Canada's website.