Israel might be over half-desert, but aside from the sand, it's not exactly easy to tell the country suffers from intense heat and prolonged drought. Over the past several decades, Israel has evolved from a nation of limited natural resources to one that makes the most of its supplies—for example, total water consumption has remained nearly the same since 1964, despite a growing population and a robust agricultural sector.
An entrepreneurial culture plus technological know-how has made Israel a significant player on the world stage. In advance of its bi-annual water technology conference, WATEC (October 22 to 24), Israel NewTech invited a group of journalists from around the world to meet emerging and established players in its white-hot water space. Here's a glimpse of what we saw.
Fountain of the future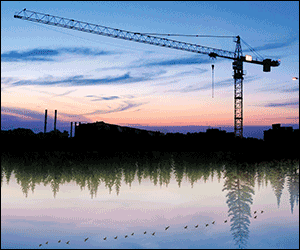 Young company Woosh Water Systems is offering a new take on the public water fountain. Complete with a display screen that guides users through bottle sanitation and filling, these "vending machines" can be programmed to offer water through a paid membership (complete with RFID tag) or free of charge. Founder Itay Tayas Zamir says municipal staff will maintain the pilot series—seven units placed throughout downtown Tel Aviv—every two days, and the machines automatically disinfect themselves every day. He believes the Woosh units will encourage users to trust the municipal system and the point of use.
Tapping into the grid
National carrier Mekorot delivers water from many sources—including some of the world's biggest desalination plants—to municipalities all over the country. In Ma'agan Michael, a kibbutz 30 kilometres south of Haifa, they're taking the feed-in-tariff concept to a new level. Brackish water from 24 boreholes feed an on-site desalination plant, where it's treated to drinking water standards using Amiad's filtration systems. The 100-per-cent kibbutz-owned system produces 12 to 14 million cubic metres of water per year, which is sold to Mekorot—or, essentially, back to the grid.
Conjuring water from thin air
During his days as a commander in Israel's Special Forces, Arye Kohavi saw that transporting heavy truckloads of water over long distances to thirsty troops was inefficient, costly, and conspicuous. Not only was a better solution necessary, it had become a matter of security.
Now Water-Gen's CEO, Kohavi has developed a potential solution. Think of it as a high-performance dehumidifier—with a power source, Water-Gen's atmospheric unit can convert moisture from plain air into as much as 365 litres of potable water per day. It requires few consumables (a replacement filter here and there) and has a minimal footprint. Most importantly, it's difficult to sabotage—the fear of drinking poisoned water is not uncommon—because it produces water at the point of use. As new generations of these units become more efficient and economical, Kohavi sees the potential for civilian applications, too, especially in dry and developing countries.
More crop per drop
Borne from David Ben-Gurion's wish to "make the desert bloom," Israel's famous drip irrigation technology has been wildly successful across the globe. World-famous for pioneering these systems in the 1970s, Netafim recently won the prestigious 2013 Stockholm Industry Water Award.
Not far from the Gaza Strip, farmers at the Yad Mordechai kibbutz are growing plentiful crops using Netafim's systems. Nearby a thriving field of pima cotton plants, Aqwise's wastewater treatment plant is paired with a drip system, treating effluent for the fields using a three-phase biological technology. During this process, the available organic matter is consumed by micro-organisms which grow on specially designed plastic biomass carriers designed to have maximum surface area.  WC
Kerry Freek is Water Canada's editor. This article appears in the September/October 2013 issue.

—
Fishin' Mission
For companies considering trade missions, 
Ron Hallett offers this advice: "Going on a trade mission is like fishing. You might get some nibbles. You might catch a small fish, or land a big one. But if you don't go fishing, you won't get anything."
Whitby, Ontario-based Real Tech Inc. landed the proverbial big fish when Hallett, the company's chief technology officer, visited Israel in 2011 as part of an official Canadian trade mission under the Canada-Israel Technology Innovation initiative.
For Hallett, the catch was a matter of good timing. As part of the mission, delegates gathered with Israel's experts to learn about the sector's triumphs and challenges. Sivan Bleich, Mekorot's water treatment and supply department manager, delivered a presentation on detecting agents of chemical warfare in drinking water supplies. Afterward, he sat down across from Hallett.
"We had just finished a similar project with the United States Environmental Protection Agency and Homeland Security," Hallett says. That project tested online monitors from four companies, including Real Tech, to determine which one ranked first for detecting agents of chemical warfare in drinking water. "After about a year of testing, they found we had the best detection limits and the fastest at the lowest cost," he says. "They published a report about the results, and I brought those results to Israel."
Hallett shared the results with Bleich, who took the bait. And the rest, as they say, is history. The international team is now working together on a project funded by both countries, and Mekorot plans to showcase the results at the upcoming WATEC exhibition in Tel Aviv.  WC