Record investments in water infrastructure across the country have put a dent in the needs for new and rehabilitated assets, but there is still a substantial amount of investment needed. At the same time, there is still significant work to be done at the federal level on issues such as flood resilience and microplastics. And of course, the self-imposed target of ending all boil water advisories in Indigenous communities by the end of 2021 will take a great deal of work from the next government.
With the October 21st federal election looming, we reached out to a handful of industry experts to get there take on the greatest industry priority for the next government. We asked each for 50-75 words in an answer of the following question:
From your perspective, what policy, program, or initiative could the next federal government institute in order to have the greatest impact on the Canadian water sector?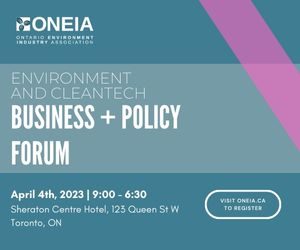 Here is what they had to say.
Bernadette Conant, CEO, Canadian Water Network
"Water connects everything and everyone—and resonates with all Canadians. This provides a powerful gateway for achieving collective action across all sectors and governments. The next federal government should leverage the potential to advance water-related mandates through a national initiative to establish water goals, and then apply these goals across multiple federal departments to achieve progress on water through governance and 
financial innovations."
Madjid Mohseni, Science Director, RES'EAU-WaterNET/Professor, University of British Columbia
"Leaders' fear of public failure drives their reticence toward making what they see as gambles on novel innovations. Failure, after all, often makes for great headlines. The Community Circle™ model, however, pools risk among collaborating decision makers so that they are more open to the promise of innovation and are therefore better prepared to make investments in game-changing solutions."
Irene Hassas and Doug Wilton, Co-Chairs of the Water Subcommittee of the Ontario Environment Industry Association (ONEIA)
"Ontario water companies would love to see the federal government launch a targeted program that funds municipalities to adopt new water technologies. There is a definite role for government in this area and it would help our companies sell their technologies into other markets."
Giovanni Cautillo, Executive Director, Ontario Sewer and Watermain Construction Association
"The federal government needs to continue to focus on asset management. The implementation of a standardized asset management plan that all municipalities can follow will level the playing field and reduce the current gap that exists between those municipalities that have adequate population for full cost recovery and those that lack such population. Knowing what each municipality has in the ground, and in what state, is the link to advancing water and wastewater."
Robert Haller, Executive Director, Canadian Water and Wastewater Association
"The people that manage and operate the water and wastewater systems in Canada are not politicians; we are scientists and engineers. We are very concerned with the climate crisis facing our world and how that affects our community's water supply, energy consumption, and risk of flood and fires. Much of the adaptation, and the potential solutions, lie within the municipal realm, but we need national-level leadership on strategies that include the funding to implement such strategies."
Brenda Lucas, Executive Director, Southern Ontario Water Consortium
"To support Canada's excellent water technology sector and drive innovative and sustainable cities, the federal government should modernize Wastewater Systems Effluent Regulations to set clear performance targets for effluent discharge, resource (nutrient, energy, and water) recovery and greenhouse gas reduction. Also, all programs for infrastructure funding should require municipalities to have strategic asset management programs, implement comprehensive optimization, and incentivize the adoption of new technology to get the most out of existing infrastructure."
Dr. Zafar Adeel, Executive Director, Pacific Water Research Centre
"Canada needs a national vision that describes our relationship to water, our future aspirations, the requisite policies, and what we offer the rest of the world. The federal government must foster a national dialogue to achieve this vision and ensure that all voices—particularly indigenous perspectives—are included. The Canadian water vision should relate to the Sustainable Development Goals for 2030 and benefit from ongoing Canadian initiatives for the Water Decade for Action (2018-2028), such as IWDA."
Stephen Braun, President, Canadian Water Resources Association
"A key federal priority for water should be the modernization of the Canada Water Act. An updated act would allow greater opportunity for collaboration, cooperation, and reconciliation. Its renewal is needed to effectively define our shared ambitions around water. We need a re-tooled and stronger framework to inform collaborative governance approaches and the many multi-faceted initiatives being implemented for environmental protection, water security, and climate resilience."
Stay tuned to Water Canada as we provide you with industry-focused coverage of the 2019 federal election right up to Election Day. Visit watercanada.net or follow us on Twitter @CanadianWater for updates.