Canadians have the second highest water consumption in the world and generate almost 12.7 trillion litres of wastewater a day, much of which is heated before it runs down the drain. If we are going to live up to our commitment to achieve net-zero emissions by 2050, capturing the energy generated from the hot water that goes down the drain every day will be an important contributor. 
Around the world, and more recently in Canada and the U.S., cities are realizing that the water leaving our homes and offices—specifically, warm and hot wastewater—is an astoundingly powerful source of energy. One estimate is that Americans flush 85 trillion litres of wastewater or 350 billion kilowatt-hours of energy into the sewers each year—roughly enough to power 30 million U.S. homes. 
In Canada, where commercial and residential buildings make up 17 per cent of the annual carbon emissions, capturing the thermal energy from wastewater could remove up to 54.7 million metric tonnes of greenhouse gases annually, the equivalent to taking 18.6 million cars off the street.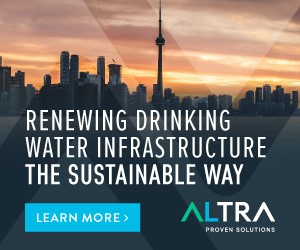 A recent study published by the Water Research Foundation of Water Resource Recovery Facilities, estimated that the thermal energy in U.S. sewage systems is 851 trillion British Thermal Units (BTU) per year, or 28,200 mega-watts, and concluded that "Wastewater recovery has tremendous potential, comparable to the current 32,972 mega-watts of small scale solar electrical generating capacity in the U.S."
To take advantage of this previously untapped resource, governments, cities, and building contractors and managers are taking steps to install wastewater energy transfer systems.
And while these systems have immense potential to lower energy consumption and decrease greenhouse gas emissions and energy cost saving, the wastewater energy transfer industry is not common practice.
Yet. 
Cool tech
The technology in wastewater energy transfer systems is surprisingly simple. A heat pump is used to capture and transfer the wastewater's warmth—which maintains a constant temperature of about 17.6° C—to the clean water stream, warming the clean water that will be then used in showers, washing machines, dishwashers, and radiators. Operating in a closed-loop system, the wastewater energy transfer system takes full advantage of wastewater's warmth, while ensuring that the dirty water does not come in contact with the treated water. 
The recovered thermal energy is used for hot water production at an average year-round efficiency of 400 per cent compared to producing hot water using conventional means. By recycling the thermal energy in the wastewater, natural gas use is also offset, significantly reducing carbon dioxide and operational costs. 
Hot commodity
Not just for warming cold water, wastewater energy transfer systems are great for summertime use as well. Buildings that have wastewater energy transfer systems installed can reverse their heat pumps and use the sewage to dissipate excess heat, reduce air-conditioning costs, and save freshwater used in cooling towers. 
Working in the same way geothermal heat pumps do to help reduce heating and cooling costs, but without the expensive and disruptive digging deep beneath buildings to take advantage of the earth's heat, a wastewater energy transfer system relies on manmade heat yielded from shallow underground pipe systems that already have been built.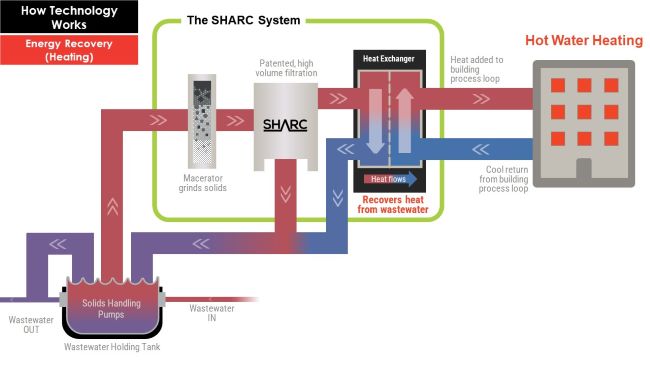 This is where SHARC Energy comes in. 
SHARC Energy's systems recycle thermal energy from wastewater, generating one of the most energy efficient and economical systems for heating, cooling, and hot water production for commercial, residential, and industrial buildings.
One of the first wastewater energy transfer systems in North America is in Vancouver where SHARC's technology has been used by the False Creek Neighbourhood Energy Utility to capture waste thermal energy from sewage to provide 70 per cent of its space heating and hot water to buildings in Southeast False Creek, parts of Mount Pleasant, False Creek Flats, and Northeast False Creek.
The utility began operations in 2010 and has rapidly expanded to serve over 6.4 million square feet of residential, commercial, and institutional space. And in accordance with the 2018 NEU expansion plan, Southeast False Creek, Mount Pleasant, the False Creek Flats, and Northeast False Creek will join the system, increasing the service area to over 22 million square feet!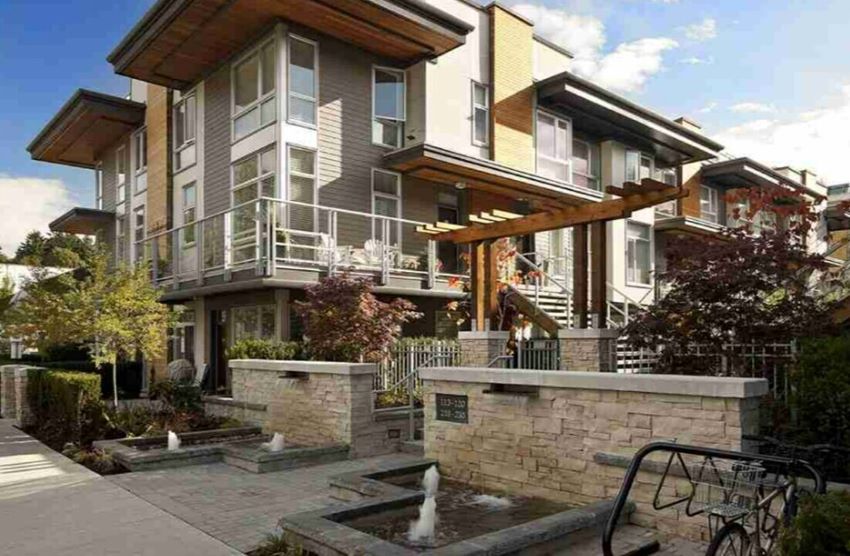 Used in new construction and retrofits, several residential and commercial buildings and district energy systems worldwide have recently started to utilize SHARC's wastewater energy transfer system to meet their sustainability goals:
National Western Center, a 250-acre innovation campus hub in Denver, will source nearly 90 percent of its heating and cooling from a recycled source of thermal energy and prevent 2,600 metric tons of carbon dioxide from being emitted into the atmosphere each year.
Lake Louise Inn, a hotel located on a UNESCO Heritage site have reduced their laundry water heating energy demand by as much as 45 per cent and propane requirement by 32,000 litres per year. It will reduce emissions by over 80 tonnes of CO2 each year, taking the equivalent of 17 cars off the road.
The Seven35 building in North Vancouver is a multi-award-winning development. Using wastewater recovery, best suited for stand-alone buildings, the two-story (60 townhomes) complex reduced CO2 emissions by approximately 90 per cent (49.6 tonnes per year) and its annual energy cost by 75 per cent.
303 Battery project in Seattle, and its installed wastewater energy transfer system, has contributed to the residential tower being the first multifamily tower in the world certified as Net Zero Energy by the International Living Future Institute.
Converting energy from wastewater is an untapped industry. More advocacy and education is necessary for policymakers, building contractors and operators to fully appreciate the benefits of dirty water as a source of clean energy. 
Lynn Mueller is the CEO of SHARC Energy, based in Vancouver, British Columbia. Lynn, a recipient of Clean50 Lifetime Achievement Awards and has been perfecting the science of wastewater energy recovery for over a decade.