1. Investments in Natural Infrastructure Have Significant Economic Returns: Report
Canada's built, or 'grey,' infrastructure requires an estimated investment of $5.3 billion per year in order to keep pace with the effects of climate change. This comes as COVID-19 puts unprecedented strain on our economy. A new Greenbelt Foundation report suggests a way to address infrastructure needs and build climate resilience, while helping the economy recover.
Investing in the Future: The Economic Case for Natural Infrastructure in Ontario illustrates how by investing in natural areas, municipalities can save money, reduce reliance on expensive built infrastructure, mitigate the effects of extreme weather, and create much-needed jobs.
The Greenbelt Foundation worked on this report with three conservation authorities to determine the return-on-investment of ecological restoration efforts in their jurisdictions: the Brock Lands, Saltfleet Conservation Area, and Lake Scugog. Read the full story here.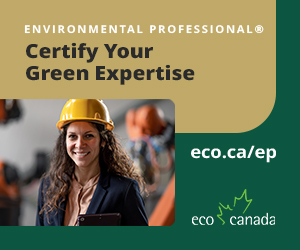 2. New Global Initiative Aims to Boost Investment in Nature-Based Infrastructure
Many decision-makers currently lack the tools to directly compare green or hybrid infrastructure solutions with alternatives—for instance, when making decisions about flood control, food security, coastal protection, water conservation, and wastewater treatment.
A new global initiative will use financial modelling and climate change projections to establish the business case for investing in nature. This will make it easier for investors and government officials to consider to nature-based solutions when making infrastructure spending decisions. Read the full story here.
3. Saskatchewan Announces $4 Billion Irrigation Project at Lake Diefenbaker
Premier Scott Moe announced the first steps of a project that will irrigate up to 500,000 acres of land from Lake Diefenbaker, more than doubling the irrigable land in Saskatchewan.
The project is beginning with an immediate $22.5 million investment in preliminary engineering and initial construction. Project construction is expected to occur approximately over the next 10 years in three main phases at a cost estimated at $4 billion.
"The announcement of this generational project will see the vision of Lake Diefenbaker completed over the course of the next decade," Moe said. "By doubling the amount of irrigable land in our province, this project will be a massive step in completing the goals our government has set out in our 2030 Growth Plan." Read the full story here.
4. Natural Infrastructure Improves Water Quality in Agricultural Landscapes: Research
New research helps build the case for harnessing the power of natural infrastructure for large-scale wetland restoration. This approach can help improve water quality in agricultural landscapes, according to Ducks Unlimited Canada (DUC).
"Ducks Unlimited Canada's research uncovers the unique relationships among wetlands, watershed health, and biodiversity," said Phil Holst, director for Ducks Unlimited Canada and chair of DUC's national conservation committee. "[It] is central to helping us understand the potential impacts of our conservation actions. It also equips us with the data we need to take a meaningful message to Canadians about the role of wetlands as a natural solution for clean water." Read the full story here.
5. Alberta Government and CIB Make Historic Investment in Irrigation Infrastructure
Alberta's government, together with the Canada Infrastructure Bank (CIB) and eight irrigation districts, is modernizing irrigation infrastructure.
"This historic investment in irrigation infrastructure will create thousands of jobs and support Alberta's economic recovery, while strengthening our competitive advantage," said Premier Jason Kenney. "Agriculture is the beating heart of Alberta's economy and as global demand for agri-food products continues to grow, our producers and irrigation districts will be better positioned to meet that demand for generations to come."
An $815-million investment will increase water storage capacity. It will also create up to 6,800 direct and indirect permanent jobs, and up to 1,280 construction jobs. Read the full story here.