When it comes to water perception and management, the public is the chief driver of change. Unfortunately, a shocking number of Canadians appear to be blissfully unaware of any water-related issues plaguing their municipalities and the country as a whole. In attempts to encourage the public to seriously think about their water—and the role we all play in caring for it—more media professionals and artists are turning to less conventional methods to get their messages across.
Art as the teacher
The Aqua Lauta is a bizarre contraption. One part bike and one part water-filtration device, the portable structure was built by artist Christopher McLeod and three engineers from McMaster University to get people to engage in the production of potable water. Participants sit on the Aqua Lauta and power the peristaltic pump by pedalling. The pump then feeds into a biosand centrifuge and UV unit constructed from brass, copper, steel, and wood. At the end, the filtered water is safe enough to drink.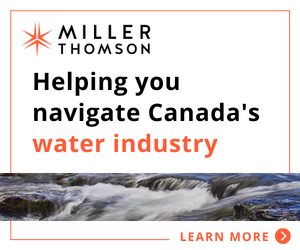 "The basic point of the whole project was to get people thinking about what happens when they turn their tap on because most people just don't even consider it," McLeod said. "I wanted to start a dialogue around the amount of energy that is required to move water around.
"I'm not going to hit them hard on the head and say, 'Don't use your water like that,' but I'm going to use my tools as an artist to implant in them ideas about conservation. I'm hoping that will have more of a lasting effect than just yelling at people."
When participants take a seat on the apparatus, they will find pedalling to be a challenge. McLeod said it was always his intention to make it difficult for people to pump the water. "It's about making that connection. People realize they have to work hard to get this water and that we're lucky to live here," he said. "If we lived in a developing country, we might have to walk several miles to get a bucket of clean water." He added that the project is aimed at people who have a lot of water, don't take the time to think about it, and waste it.
"It's hard to get this message across about conservation when there's this general perception that we have such an abundance," he said. "There's a complacency that I'm trying to break people out of by physically engaging them."
McLeod has plans to tour the Aqua Lauta for two years. It has been showcased at the McMaster Museum in Hamilton, Ontario, and even appeared briefly at the Conestoga Mall in Waterloo, Ontario. At the mall, he said one person would start pedalling and instantly attract "40 other people, all trying to figure out what was going on."
"It was fantastic—a lot of dialogue happened that day in the community. People were asking where their water comes from because they didn't know, and we got the conversation going."
Using art to get people thinking and talking about water is one approach the Toronto 2015 arts and culture program team will be employing next summer during the 2015 Pan/Parapan American Games. From July 10 to August 15, 2015, AquaCulture: A Festival of Water will run along Toronto's waterfront as part of its PANAMANIA festival. It will include arts installations and video projections on water, underwater photography by artists like Meaghan Ogilvie and Edward Burtynsky, water sculptures, and more. There will also be an educational component to AquaCulture, including forums, lectures, and competitions for water conservation.
"I hope that it will show the magnificence of water beyond sports—its cultural possibilities," said Don Shipley, the creative director of arts, culture, and festivals for Toronto 2015. "At the end of the day, we are sufficiently blessed in terms of abundance of water, but we're facing serious issues. I hope AquaCulture will also shine some light on the serious side of water ecology."
Media matters
Since 2012, Alex and Tyler Mifflin have documented their travels around the world as they explore our relationship with water on their TVO show, The Water Brothers. They recognize that water problems are often complex, and it is up to them and their media counterparts to make the issues more accessible.
"We wanted to do something different, and we really wanted to make it fun," Alex said. "We didn't want it to be a traditional talking head documentary, although we have aspects of that. We really wanted to make an adventure travel show and do it in a short format so it's easy for people to get engaged in the issues and have fun with it."
Tyler added, "There are times we could be a little bit more fun, happy, and adventurous, but we always put the content and the issue first."
The brothers said the issues, at a first glance, can seem overwhelming to people, but it is their responsibility to make individuals realize that no problem is too big to tackle head on. "We try to show people that there are things they can do in their daily lives—the small little things that can actually help and make a difference," Alex said. "We're not preaching at people, 'Don't do this.' We give them hope that they can be a part of the solution."
Alex and Tyler, who also do speaking engagements, said the media needs to encourage people to take pride in their water, especially since so many Canadians feel they don't need to care for it—like the 30 per cent of Torontonians who said in the RBC Canadian Water Attitudes Study that they have no responsibility to protect drinking water.
"We should be really proud and want to make sure [our lakes] are as clean as possible. It's got to be something that's a source of national pride," Alex said. "We're all users of water. We're all polluters of water. So unless everyone participates, you can't actually solve the problem, yet many Canadians think their participation is irrelevant."
What's the role of print media?
Stephen Leahy has been a freelance environmental journalist for the past 20 years. He used to write for a prominent Canadian magazine and daily newspaper, but about a decade ago, both publications decided they no longer wanted regular environmental coverage. This continues to be the case in 2014, where traditional print media tend to prefer coverage on sports and business over science and environment.
"I used to write exclusively for Canadian media, but now I don't write for any Canadian media because there's no place for me to get published," he said. "There was never a lot of it anyway, and now there's hardly any. Generally speaking, Canadians are not very well served on that front by their media."
But traditional media still plays an important role in informing the public about its water, albeit a shrinking one. After a few stories about water issues sparked public concern over British Columbia's century-old water laws, Vancouver's The Province daily newspaper began running a formal water series—"Our Water"—in the summer of 2013. At its peak, the newspaper ran one or two water stories a week.
"The newspaper had found an issue that we could rally behind and it was fairly uncontroversial because everyone wants to make sure our water is protected," said Province reporter, Dan Fumano, who has led the newspaper's coverage on water. The feedback, he said, has been positive from academics and experts who have been "trying for years to get the public to care about some of these issues." But the most encouraging feedback is the praise the newspaper has received from everyday Canadians.
The Province's coverage has largely been driven by the desire to change the province's outdated water laws, but Fumano said he's noticed people also respond strongly to money matters, specifically the case with Nestlé paying nothing to take millions of litres of fresh water. "Money issues resonate with people," he said. "People think, 'I pay a water bill for the amount of water I used in my house. Why doesn't this multi-billion dollar company pay for a resource they extract and put in bottles and sell back to us?' "
While it seems obvious why residents would take an interest in these issues, Fumano said journalists still have a clear role to play in getting more people engaged with water.
"Our job is to talk to the experts because we're not experts," he said. "I'm not an expert on anything but talking to people who are experts. My job is to be able to take what they say and distill it and present it in a way that will make the general public, who doesn't think about this stuff, care."
It's a domino effect. Once people are informed and care about water, it's easier for political decision-makers—those at the mercy of public opinion every election—to drive effective, potentially costly industry-wide change.  WC
Rachel Phan is Water Canada's editor. This article appears in Water Canada's May/June 2014 issue.