There is currently significant momentum building with the renewable biogas industry in North America as it offers an opportunity to help reduce GHG emissions by diverting organic waste from landfills to anaerobic digestion treatment facilities. Since methane gas is approximately 25 times more powerful when compared to carbon dioxide in its warming effect on the atmosphere over a 100-year horizon, finding ways to limit methane escaping from landfill has significant environmental benefit.
The push for renewable biogas has been in part catalyzed by the Californian Bill SB 1383, an aggressive environmental policy that establishes specific targets and timelines to divert organic waste (particularly food waste) away from landfills, thus reducing emissions of methane. The boost in biogas deployments across North America is taking place in two distinct areas: Municipalities who are looking to boost biogas production at wastewater treatment facilities that have existing (and under-utilized) anaerobic digestion assets, and the agriculture and food processing industries who are looking to manufacture on-site digestion systems that can process the waste streams being generated.
One key technical gap that has existed for operators of anaerobic digestion (AD) systems is that they have routinely been operated as "black boxes." Getting information from these biological treatment systems that could be used to optimize performance has been remarkably challenging resulting in digestors being built with excess capacity or being under-loaded and not optimized for maximum biogas production rates.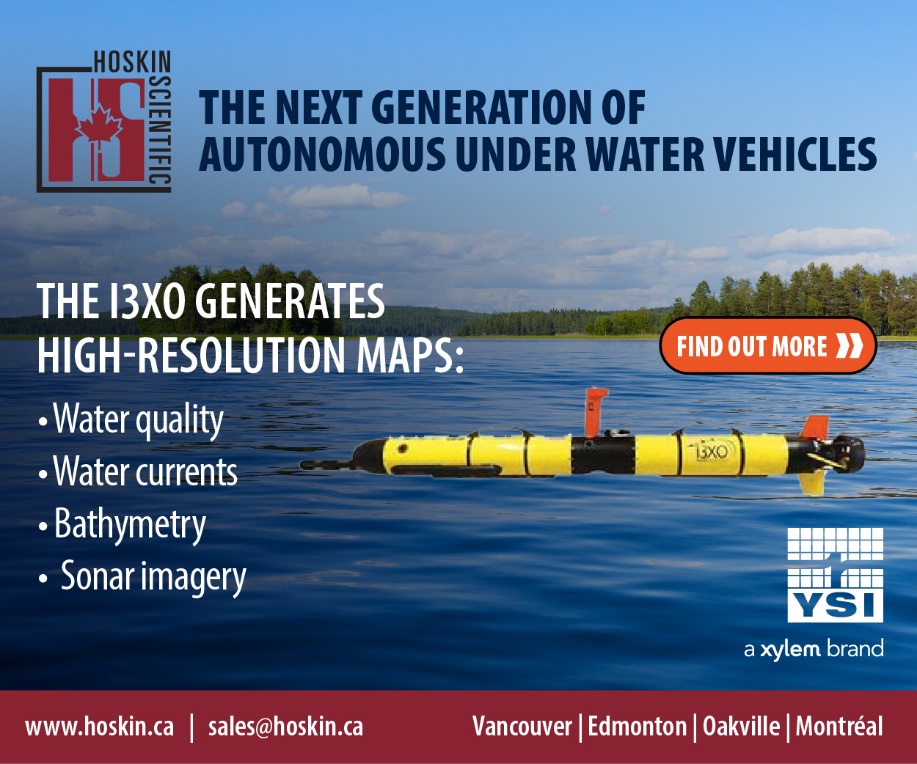 Two Canadian companies are working together to solve this data quality issue and develop a new process for understanding the health of AD systems. Catalyst Agri-Innovations Society wants to create a pathway for farmers to access a suite of technologies that can allow them to successfully install and operate on-site AD systems, and with the help of SENTRY's bio-electrode monitoring sensor platform as the key tool in understanding the impact of various agricultural feedstocks on the performance of AD systems, they are well on their way of getting there.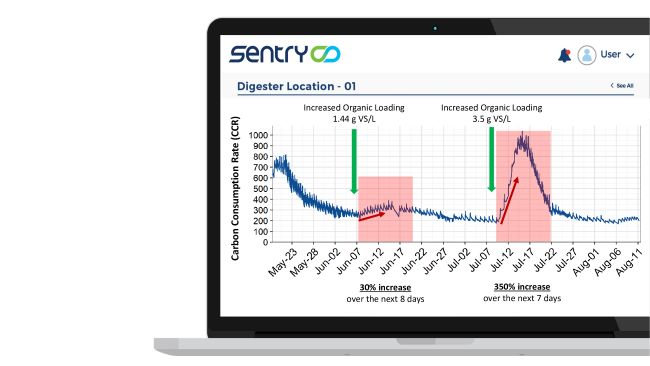 AD sytems in action
On-site AD systems for processing agricultural waste streams are typically run reactively; this means that operators wait for negative data from bench-scale manual tests in order to make decisions. But by using digital signals that provide real-time alarms direct from the anaerobic treatment reactors, operators can be proactive and make decisions that maximize organic loading and biogas production. 
This is where the SENTRY monitoring system comes in. 
Case in point: SENTRY's monitoring system was installed at the Bakerview EcoDairy, Abbottsford, British Columbia, whose digesters are fed every two-to-four weeks with a combination of chicken and hog manures. 
Consisting of a control and data management panel and two sensors, the system is able to send key information directly from the sensor to an online dashboard where operators get a real-time view of the health of the biomass in the reactor. One of the key benefits of SENTRY is that operators do not have to do regular, manual sampling of the wastewater in the digestor, but can instead take action when an alarm notifies them of any biomass issues or events. 
Because the SENTRY system provides a direct measurement of microbial activity (carbon consumption rate) of the microbial community in the anaerobic digester, it provides novel insights to assess the health, stability, and effectiveness of the biological process through the microbial populations responsible for the treatment and their responses to monthly feedings. And its biofilm-based system means that the signal is remarkably stable in wastewater environments and requires limited maintenance or cleaning. 
At the most basic level the SENTRY signal is used to visualize the batch feeding of reactors in order to understand how best to optimize feeding or organic loading to the digestors. This allows the operator to see very clearly the impact of different feed-stocks on the performance of the anaerobic digestors. The SENTRY signal can also show the impact of various process control changes, for example changes in internal recirculation rate or temperature on biological activity and treatment performance.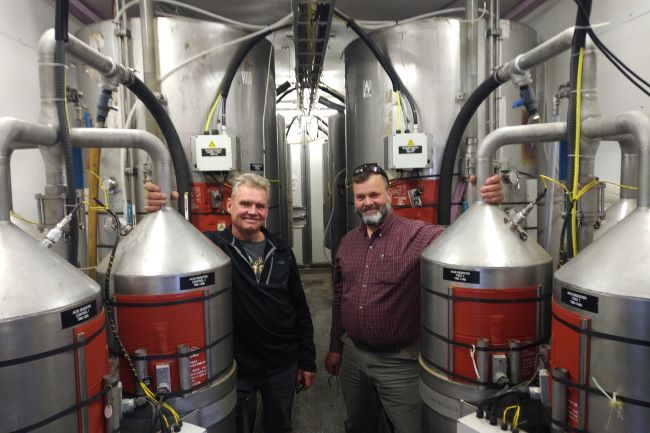 Eventually, the goal is to combine SENTRY signals with artificial intelligence and learning algorithms to develop optimized organic-loading strategies and eliminate manual wastewater testing to maximize biogas production rates. 
The SENTRY team are currently providing real-time process monitoring to twenty anaerobic digestors with systems operational in Canada, United States, Netherlands, India, and Brazil. The immediate value to these clients is that they can use the sensor signals to detect problem feedstocks and reduce the risk of biological upset and lower biogas production. The longer-term goal is that these sensor signals can be used to maximize the efficiency of anaerobic digestion systems by optimizing feeding to the digestors with target estimates to increase biogas production rates by 20 per cent. 
Patrick Kiely is CEO at SENTRY
Juliana Mejía-Franco is Client Manager at SENTRY
James Irwin is CEO Point 3 Biotech Corp
Christopher Bush is Director at Point 3 Biotech Ag-Tech Consortium and President at Catalyst Agri-Innovations Society