When the Town of Rothesay, 
New Brunswick began to receive complaints about dirty water, it was discovered that the source of the problem was a section of cast iron watermains constructed in the 1960s. Rather than digging up and replacing the pipes, the Town opted to explore other cheaper and less disruptive options. Pipe lining—a relatively new technology in North America—was chosen as the most convenient solution.
Liners are primarily used to solve the problem of municipal water pipe deterioration. When pipes are corroded over time, pipe liners are applied to the inside of unlined cast iron or cement mortar-lined pipes. While older structural spray lining, often called Cured-In-Place-Pipe, is slow setting and requires a minimum 16 hour cure period and an additional 36 hours of service shutdowns, the new generation polyurea pipe linings are rapid-setting and quick cure.
"Generally speaking, pipe liners have been specifically developed for the rehabilitation of potable water pipe infrastructure to help extend service life, reduce leaks, and improve water quality by preventing tuberculation—the build-up of corrosive material on the inside of iron piping—that can lead to colour, taste, and odour issues," says Sylvain Masse, the business development manager of the 3M Infrastructure Protection Division.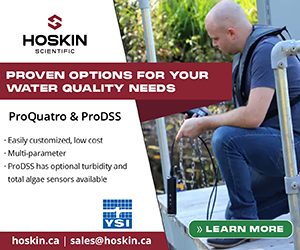 "Essentially, liners reduce the contact water has with piping, which in turn reduces the likelihood of water discolouration and poor pressure," 
he adds.
Aside from acting as a thin layer of protection, liners can also be applied as a structural addition to the pipe, which means the layer of liner can act as a pipe in the event that the actual pipe fails due to age or corrosion. As a result, pipe liners can prevent contaminants from reaching water in cases where the earth surrounding a corroding pipe is contaminated.
The Town of Rothesay came across the new lining technology after receiving complaints about poor pressure and water becoming yellowish or rusty during high flow events. While these issues are not generally health hazards, the discoloured water is often unsettling for customers. In 2011, Rothesay started a trial run project where 1,000 metres of cast iron pipe were relined in about three to four weeks.
"Initially, it was very attractive to do the relining versus digging up pipes and replacing them because there was minimal disruption to the customer and it was cost saving for the municipality," says Bruce King, Rothesay's utilities coordinator. "The benefit of relining outweighed the process of replacing the pipe."
In Rothesay, approximately 100 metres of pipes were relined in a day, and for the most part, the water was back in service by night on sections that were relined that day (albeit on a boil water advisory while the process was ongoing). This made the process relatively pain-free for residents.
The original trial run was so successful that the Town of Rothesay applied the liner to an additional 1,600 metres of iron pipe in 2012, which took approximately four to five weeks to complete. An engineer estimates that the 2012 project was about 36 per cent of the cost to replace the pipe.
"There was a dramatic drop in dirty water complaints and the process was fairly easy," King says. "We received a lot of immediate positive feedback, especially about the water quality improvement."
He says Rothesay has plans to reline its last remaining cast iron mains in 2014. In the meantime, the technology continues to gain popularity with municipalities looking for a cost-effective alternative to replacing aging infrastructure.  WC
Who are the major players?
While this trenchless pipe lining technology is relatively new to North America, a number of Canadian companies are offering similar technologies and services to municipalities dealing with rapidly aging infrastructure. These companies include:
• FER-PAL Infrastructure
• Insituform
• LiquiForce Services
Rachel Phan is Water Canada's managing editor. This article appears in Water Canada's January/February 2014 issue.