With just over 15,000 followers on Twitter, @LakeSuperior is a social media sensation loved and revered for its courage, wit, and sometimes, bad temper. Water Canada caught up with @LakeSuperior to discuss what it's like being the world's most popular lake on social media.
Water Canada: You have quite a large Twitter following (at the time of writing, over 14,000 followers). Why are you so popular?
@LakeSuperior: I am the GLOAT, the Greatest Lake of All Time. I was pretty much born this way. In the words of Muhammad Ali, "I am the greatest, I said that even before I knew I was." My friend William Shakespeare once told me, "Be not afraid of greatness. Some are born great, some achieve greatness, and others have greatness thrust upon them." Greatness is my destiny.
WC: What makes you the greatest Lake?
@LakeSuperior: Modesty has always been an important value to me, but since you asked, have you seen how good I look? Any season, any time of day, from my north shore to my south shore, I know how to put on a show. The people love, even when I get a little moody.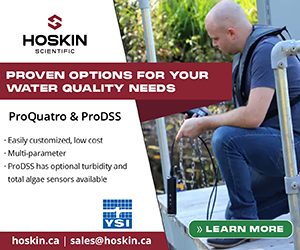 By the numbers, I am the world's largest lake by surface area and third largest in volume. People seek me out for fishing, kayaking, sailing, hiking, and much more. My features speak for themselves, Isle Royale, Pictured Rocks, Old Woman Bay, Slate Islands, Split Rock Lighthouse, and that's just a partial list. I can't say enough about the communities I'm surrounded by, with people who appreciate my natural beauty and look after my health. This is embarrassing, I'm starting to tear up a bit.
WC: How would you describe yourself?
@LakeSuperior: Splash dibble plip splosh schwump burble pitter dopp shuh shuh gargle slosh plip plop plip plop bulge shuh flush whargharble dopp pitter burble blllggghh flush slosh flack a flack schwump splosh splash plip plop plip plop bulge plip whargharble gargle dibble splash slosh blllggghh splosh fleck dopp flack a flack gargle dibble schwump plip flush plip plop plip plop pitter shuh shuh.
WC: What keeps you up at night?
@LakeSuperior: Lake Baikal and lighthouses. I haven't seen Lake Baikal in person, but I think she's all propaganda. As for lighthouses, just imagine a bunch of people shining flashlights in your eyes as you're trying to sleep. Rude.
WC: Some people say you are cold. Is that fair?
@LakeSuperior: I don't hear any fish complaining about my temperature. This sounds like a uniquely human problem.
WC: How would you describe your relationship with the other Great Lakes?
@LakeSuperior: By definition, if I'm Superior, that makes them inferior. Truth be told, I'm the older, more mature sibling, always looking after them. I try to teach my siblings to have an identity of their own, to be proud of themselves, even if they are smaller.
WC: Lake Ontario?
@LakeSuperior: LOL! Next question, please.
WC: What's your favourite water sport?
@LakeSuperior: I like the way canoes feel as they glide across me, it kind of tickles.
WC: What are you watching on Netflix?
@LakeSuperior: On a typical Friday night I can be found binge watching Monster Fish, a series from National Geographic. And I usually watch The Perfect Storm at least once a month. I even have some guilty pleasures, like Gilmore Girls.
WC: Who's your favourite musician?
@LakeSuperior: I only listen to Gordon Lightfoot.
WC: Do you have an opinion about Canada's investment in freshwater science/monitoring?
@LakeSuperior: Yes, a highly favorable opinion. My purpose in the world is to provide clean water and beautiful natural areas. My siblings and I contain 21 per cent of the world's freshwater. We provide water to over 10 million Canadians, that's a pretty important job. Looking good isn't easy, I need the help of people and government to make sure I look good and feel good.
WC: What do you think about Justin Trudeau?
@LakeSuperior: Handsome lad! It's important to me that there is leadership locally and nationally that align with my values of conservation and clean water. I'd really like to have him visit again for some kayaking, fishing, or maybe skip some stones (don't worry, it doesn't hurt). But I will be stern, I want Justin to show great conviction in looking after our natural resources and wildlife.
WC: Sunrise or sunset?
@LakeSuperior: Every single day there is one of each, and they are completely free. Sometimes it's cloudy or snowy, but taking the time to watch the sunrise or sunset and to be with nature, is never regretted. That being said, I find a sunrise to be much more rewarding, it requires more effort, but each and every day you're offered the opportunity to start your day right.
Let me be that opportunity.