Sarah Dickin is a graduate student in the school of geography and earth sciences at McMaster University, and part of the Water Without Borders student program at the United Nations University (UNU). Her research involves developing a tool to assess vulnerability to water-related hazards based on environmental and social factors such as climate and land use. Using GIS, she is am exploring the application of this approach to map vulnerability to water-related disease, such as those carried by mosquitoes or acquired through water-use behaviours (for example, Dengue fever, West-Nile virus, schistosomiasis). Dickin recently became the youth ambassador for the 2013 International Water Week (IWW) in Amsterdam. Water Canada met Dickin at this year's IWW and asked her about her new role.
Water Canada: How did you become the youth ambassador for the 2013 International Water Week Amsterdam? What's your job as ambassador? How will you spend your next two years leading up to the 2013 conference?
Sarah Dickin: In addition to a submitting a traditional application package (CV, statement of interest), I created a YouTube video (filmed at Webster's Falls, Hamilton) to promote myself. At IWW, the three finalists participated in a debate about global water challenges in front of an audience of young water professionals. A jury picked the new youth ambassador to take over from Dirk Janssen, the previous ambassador and the Dutch youth representative to the United Nations.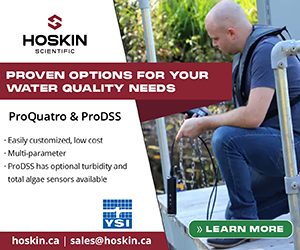 My job is to promote the involvement of young people in the water sector and to expand the IWWA young professionals network to a larger and more international scale. (big expectations!)  This will partly rely on online networks which are used heavily by many young people. In addition, I plan to work with other groups, such as the IWA young professionals program, the UNU Water Without Borders student program, and other similar initiatives to continue the momentum leading up to 2013. Since young people are up for a challenge, I also hope to run some competitions to encourage further networking and collaboration before the next conference. My next task is cooperating with the Water Youth Movement initiative for the upcoming World Water Forum in Marseille to provide a platform for and to encourage young people to submit their solutions for this high-profile event.
When did the IWW's young professionals program begin? What are the program's goals?

The program began this year to give young water professionals from around the world an opportunity to meet, exchange ideas, and inspire each other. It is based on the belief that in order to address global water challenges, young people must be involved and given opportunities to share their creative, sometimes unconventional, water solutions.
The vision for the program is that it doesn't occur in isolation from other events during the conference, but plays a key role. For example, a group of young people participated in the Wet Skills Innovation Challenge to develop innovations for controlling water during flooding in urban environments. This activity concluded with the signing of a new memorandum of agreement by local stakeholders (university and government) to cooperate on innovative solutions for Watergraafsmeer, an especially low lying polder in Amsterdam subject to flooding issues.
You're sharing the role with two other successful applicants: Stephen Nyende-Byakika and Josanne Derks (video). How do you think your combined skills will be of benefit to the program?
Stephen is a lecturer in the department of civil engineering at Vaal University of Technology in South Africa, while Josanne works for Royal Haskoning, a private consulting firm in the Netherlands that works on drinking water solutions. The three of us bring a great blend of private, public, and NGO experience to the program. Our varied educational backgrounds and skills spanning science, engineering, and social sciences, is valuable for the multi-disciplinary focus of the young water professionals program. Being located across three continents will mean we can involve our local networks to promote youth involvement in the water sector at a global scale.
What do you hope that young professionals will take from the program?
In addition to a platform for meeting and networking with other young professionals and representatives from various universities, research institutes, and companies, there are opportunities for professional development, such as workshops and field trips, to learn about cutting-edge technology. Young people will be challenged to work with others from different disciplinary backgrounds, and create research papers or technical solutions that can be taken beyond the conference. Finally, learning about career opportunities in different aspects of the water sector is a popular part of the program.