Across Canada, municipalities must be ready for big growth—and big change. Increased immigration levels and housing booms outside of major urban centres mean municipalities of all sizes and in all corners of the country are preparing for unprecedented population growth.
At the same time, they face a tough road ahead to stay prepared. As a 2020 report from KPMG put it, "the clock is ticking on Canada's municipal infrastructure." The consultancy suggests that 13 per cent of the country's core municipal infrastructure assets—including roads, pipes, and water treatment plants—are in significant decay and either unreliable or entirely unfit to meet current needs, let alone the future population growth this country expects to see in the coming decade.
It's not a surprise that municipalities are in this position. Severe and often unpredictable weather is taking its toll on already aging infrastructure, while budgets are already constrained. The pandemic has only exacerbated the financial pressures municipalities are already facing.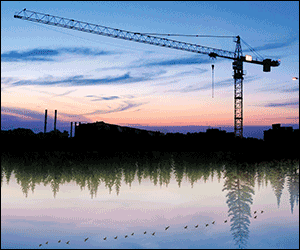 But doing nothing is not an option. The future resiliency of the country depends on strong communities that are ready to accommodate what's coming. Municipalities' willingness to modernize is vital, not only for keeping critical infrastructure afloat now, but for making our communities stronger and more sustainable as we grow.
The most forward-looking municipalities will be the ones thinking about how to use digital transformation to make smarter decisions, manage energy usage more effectively, and stay prepared for disruption.
Well-functioning, reliable water treatment facilities are vital for healthy, thriving communities. Inefficient facilities, on the other hand, can lead to wasted water, energy, and revenue loss. More importantly, even a few hours of downtime in a water treatment facility can create huge public health issues.
Over the past few months, we've seen encouraging announcements that recognize the importance of improving these aging facilities. Three levels of government have committed $73 million in funding for upgrades to the regional wastewater treatment system for the city of Winkler in Manitoba. In Quebec, the government is investing in a new water treatment plant for Drummondville.
While this kind of news is encouraging, it's no secret that for most municipalities, budgets are a barrier. Competing priorities and limited resources make investment decisions difficult. To meet current needs and prepare for growing development, water companies must invest constantly to replace pipes, refurbish equipment, and expand their treatment plants, all while meeting increasingly stringent water quality standards.
However, advancements in digital technology and systems mean that critical industrial facilities like water treatment plants can modernize without the upfront CapEx investment you may expect. The Town of Midland in Ontario is one municipality that has recognized this and acted.
Not unlike other municipalities across the province and country, Midland's water treatment facility had 35-year-old infrastructure in place. Its dated system couldn't provide the data collection, monitoring, and analysis the team needed to efficiently manage their energy needs and have confidence in the system's uptime.
This would be a challenge on its own, but added to that is the town's projected growth. Midland is part of a booming area of the province set to grow exponentially in the coming decade. In the town specifically, the population is predicted to increase by 25 per cent to 22,500 people by 2031.
As the influx of residents and development grows, demands on infrastructure will, too. As a result, the town is committed to "Building Midland's Future," including upgrading key infrastructure.
To deliver on that promise within its water treatment plant, Midland partnered with Schneider Electric to implement the EcoStruxure solution within its existing infrastructure. This has become the backbone for a modernized facility that now consumes less energy and has lower operating costs, and where staff have greater visibility into how essential functions are performing.
A huge part of this transformation is rooted in gaining access to information for smarter energy management and better decision-making grounded in real-time insights. As part of the project, we upgraded the plant's SCADA, the system that gathers and analyzes real-time data to monitor and control equipment, plus integrated new, connected products and screens to better monitor its systems.
The idea is to get data flowing and then let workers harness it remotely, ultimately saving on labour and maintenance costs, with the facility performing at its best. Using digital tools to improve visibility into water systems lets operational and maintenance teams keep tabs on how the facility is operating, so they can stay ahead of any potential issues. Midland's operations team can proactively manage any red flags early, avoiding financial, health, and logistical consequences that come with downtime.
They can also spot opportunities to better manage their energy. Managing electricity usage is an increasingly important part of managing the total operating costs for a facility with industrial pumping systems like this one. With the right energy management practices, though, it's possible to reduce electrical consumption by at least 30 per cent, plus reduce maintenance costs—with minimal CapEx investment.
Take, as an example, how the plant now operates its motors, pumps, and aerators. These are critical assets within water treatment plants, but often dated and not optimized to work as efficiently as they could, depending on demand at certain times of days. These pieces of equipment are also big energy consumers, typically responsible for 60 per cent of electrical energy usage, on average, in industrial businesses. For a typical pump, energy costs represent 40 per cent of the total cost of ownership.
In Midland's case, the simple act of updating the facility's motor control centre brought the entire plant forward 15 to 20 years, without a major capital expenditure investment. Adding variable speed drives on its aerators have reduced energy consumption by between 36 and 40 per cent. Installing the drives enables the aeration cells to control the amount of dissolved oxygen in each tank—the drive speeds up as the amount of oxygen drops and slows down once the desired amount is met, promoting greater energy efficiency and ensuring the right amount of oxygen is reached.
All of this has a major impact on the bottom line. By reducing operating and maintenance costs, facilities like Midland's can free up budget for much-needed, larger scale infrastructure updates that keep them prepared for future growth.
This project has also had an undeniable human benefit. The workers at Midland's plant are more engaged because they have greater insight into how their facility is performing—and confidence that they are making the best decisions possible. By providing a real-time view of what's happening across the plant, operators easily make changes and monitor the impact these changes have across operations. This information is then stored and available for all current—and future—operators to reference.
Embracing digital transformation within water management facilities may seem daunting, but as Midland shows, the results are worth it. More importantly, the benefits can be realized with incremental upgrades to existing infrastructure, not just through major CapEx investment.
With that in mind, there is no reason for municipalities not to capture the productivity, efficiency, cost savings, and sustainability benefits that come with digital transformation. In fact, it's essential for the resilience of Canada that they do.
This article was written by Steve McDowell, a senior sales consultant for Schneider Electric Canada, for the September/October issue of Water Canada.