In late June, southern Alberta was struck by heavy rainfalls that caused three of the province's rivers to flow five to 10 times their normal rates, seriously flooding parts of Calgary and other towns in the vicinity and forcing many people to leave their homes—some for weeks and even months. Since that time, the Province of Alberta estimated the cost of repairing the damage would exceed $5 billion. They've called it the worst flooding in Alberta's history.
Mere weeks later, flash floods hit the Greater Toronto Area, setting a record for Ontario insured damages arising from a single natural disaster. In August, the Insurance Bureau of Canada reported the preliminary estimate of insured property damage caused by this thunderstorm was more than $850 million.
In this article, Water Canada focuses on a few of the water and wastewater professionals whose quick thinking and emergency planning prevented these floods from having greater consequences for public health and safety.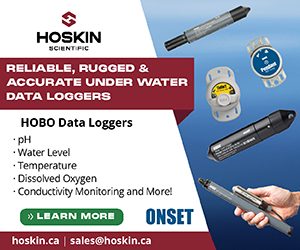 HIGH WATER, QUICK THINKING
A lengthy boil-water advisory, washed-out infrastructure, and a high water table: EPCOR's Craig Bonneville recounts being stranded in Canmore, Alberta.
On the first day of heavy rain, after crossing a near-flooded highway to get to Canmore from his base office in Calgary, Craig Bonneville joined a small response team and assumed his new role as EPCOR's representative at the town's emergency operations centre.
For five or six days, high flows entered the town's wastewater treatment plant at volumes beyond its capacity, Bonneville says. Due to the constant rain and runoff, keeping the stations in operation and preventing basement overflow and backups was a challenge. "With flooding, you get lots of debris, silt, and sand, which isn't the normal situation. It tends to plug pumps and pipes, so it was a challenge to keep them running, especially with the intermittent power outages during the first day of flooding."
Canmore's high groundwater table also contributed to the flows. "It restricts when we can do digs, so we plan our activities for late fall to minimize the amount of pumping we have to do," Bonneville says. "We're in the middle of designing an upgrade to increase the plant's capacity, however." He says EPCOR is actively trying to minimize inflow and infiltration to the wastewater collection system. Future plans include a plant capacity upgrade.
On the drinking-water side, the town called a boil-water advisory on June 22 that lasted for almost two weeks. For the first few days, the primary task was getting the water treatment plant running and producing quality water. Bonneville says they met regulations by late the following week and the team had flushed most of Canmore's system by July 2.
During this time, EPCOR brought operators and support staff from Edmonton and other locations to help with the additional workload. To help lessen the impact on residents, they installed four potable water stations throughout the town.
Overall, how did Canmore fare? "The damage isn't anything like what happened in High River [a town southeast of Calgary], but it was a significant event for Canmore," Bonneville says. "We had minimal permanent damage to infrastructure. East of Cougar Creek, we had to isolate the water and wastewater infrastructure because it goes under the creek and we were afraid it would be washed out. One washed-out road took out a 50 to 100-foot section of pipe, along with some utilities. That's not bad, comparatively, and we're on the way to rebuilding that road."
SOLUTIONS UNDER PRESSURE
How a small Alberta municipality dealt with limited capacity, navigated new river courses, and played a supporting role for neighbouring towns.
Rocky View County utility operations technologist Wade Bell was part of a team that secured the water treatment plant in Bragg Creek, Alberta, which is located in a floodplain. When the rain began, his first order of business was to determine its impact to the plant and try to minimize damage.
"At our river intake, the wet well had a metre of water over top of it. The raw water had a turbidity of just under 1,000 NTU, so first we had to clear the sediment." Bell says it took four to six hours of flushing before turbidity reached a manageable level for the plant to handle.
Bell says the system had been commissioned using summer water-quality data only, and because it had only recently been constructed, it wasn't even officially online. "Our funding didn't allow us to construct a distribution system until this year, so the plant was being mothballed until it was connected."
To make matters worse, the equipment brought to Bragg Creek to construct the distribution system sustained damage during the flood. Some equipment had been moved on site to begin a directional drill underneath the river, but it was washed 150 metres downstream. The excavating company was able to retrieve it using larger equipment.
In the end, the Bragg Creek system fared well, but some nearby plants did not. At the time of our interview, Bell reported that half of the Elkana Estates infiltration gallery was no longer situated in the Elbow River. "The river has moved, and the course has changed. For lack of a better explanation, they're hanging on by a wing and a prayer, waiting for our distribution system to be connected." If the gallery fails, Bragg Creek will truck water to Elkana's reservoir, which is an expensive option—about $250-300 per 10 cubic metres.
As for his neighbours in High River, Bell says he feels Bragg Creek has gotten off easy by comparison. "I'm hearing stories from some of my colleagues there and I'm astonished by what they've had to contend with," he says. "Many people have not yet returned to their homes. They have begun to populate some of the temporary housing camps."
BUILDING FROM EXPERIENCE
David Stonehouse says his site was "designed for flooding." Here's how Evergreen Brick Works coped with Toronto's July 8 flood, and how it thrives in what might be the city's most flood-prone zone.
Owned by the Toronto and Region Conservation Authority (TRCA), the historical Don Valley Brick Works site was the focus of development debate for years, being in one of the most flood-prone properties in the TRCA's jurisdiction. In 2010, it became the home of Evergreen Brick Works, and urban planner and general manager David Stonehouse says that in the early days of Evergreen's involvement, there was a lot of sensitivity around what and how it could be developed.
"The conservation authority's board made a political decision to allow Evergreen Brick Works to happen because its members believed that the unique heritage of the site was worth protecting, and that would require reinvesting in and renewing the site. What we were allowed to do here isn't what a developer would be allowed to do at similar sites in other parts of either the Don River watershed or the jurisdiction of the TRCA."
To secure that approval, Evergreen had to flood proof the ground floors of all of the buildings, create and implement a site evacuation plan, and raise the floors of all the buildings to be above the levels of a two-year storm, the most frequent flood. He explains some of the other flood-adaptation features:
"There is no basement, and there are no expensive mechanical systems on the ground flood. The main mechanical rooms are located on the second floor or higher—same with electrical. All of the ground floor plugs are ground fault circuit interrupters designed to trip if they get wet. You won't find any carpet or drywall on the ground floor—instead we've got concrete and masonry. In other words, the site was designed to flood."
Even so, Stonehouse says, the impacts of the July 8 flood were more severe than previous events.
"We had a couple floods last year [2012] that caused water to inundate parts of the site, but the water didn't enter the building," he says. "This time [July 8], we had to call in a building restoration contractor. That team pumped out the water, cleaned and dried the buildings, and disinfected for mold."
In the end, preparedness and good site design prevented what could have been significant damage to the property. But could Evergreen Brick Works handle a storm like 1954's Hurricane Hazel?
"Obviously we're worried about regional floods, but it's the two and five and ten-year storms that are more worrisome. We'll see the Hurricane Hazels coming for a couple of days, but with thunderstorms, we have to act quickly. We have only an hour or so to evacuate the site. That's the frightening part of living here in the Lower Don," he says.  WC
Kerry Freek is Water Canada's editor. This article appears in the September/October 2013 issue.