PICA Corp. was recognized in the Conveyance category of the 2021 Water's Next Awards. 
There's perhaps nothing worse for a local utility than a sewage line failure. So, for Pipeline Inspection & Condition Analysis Corporation (PICA) of Edmonton, Alberta, it only makes sense to identify defects in hard-to-reach sections of pipe while the line is still in service, before trouble bubbles upwards.
In most cases, pipe deterioration results from air and gas build-up in the interior, leading to concentrated pockets of corrosive hydrogen sulfide (h2s) gas eating away at the metal.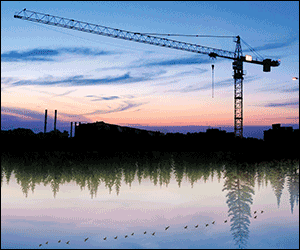 "Eventually, the pipe will get thin enough that it will rupture," explains PICA founder and co-owner Dave Russell. "You'll have a sinkhole under the street and a lot of raw sewage bubbling up and running down the road."
The technology is meant for routine force main condition assessments. As its name suggests, PICA's Bracelet Probe essentially wraps around a pipe's exterior, adapting to any size of ductile-iron, cast-iron or steel pipe starting at six inches diameter. Using 16 high resolution sensors that cover a 10-inch-wide path, the probe penetrates through the pipe wall using a low frequency electromagnetic field to scan axially for signs of interior damage such as corrosion, thinning, pits, and cracks that can cause leaks and ruptures leading to pollution and property damage.
As the Bracelet Probe moves along the pipe, it displays measurements, immediately transporting the data to a software platform for near-real-time access over a laptop or other computer.
PICA has achieved commercialization, with close to a dozen municipal utility users in the U.S., including Gwinnett County, a suburb of Atlanta, Georgia. Ironically, PICA has yet to land its first Canadian customer for Bracelet Probe. "I think Canadians in general are more conservative and don't jump on to new technology as quickly as U.S. customers do," says Russell. "U.S. customers tend to be quick adopters of new technology."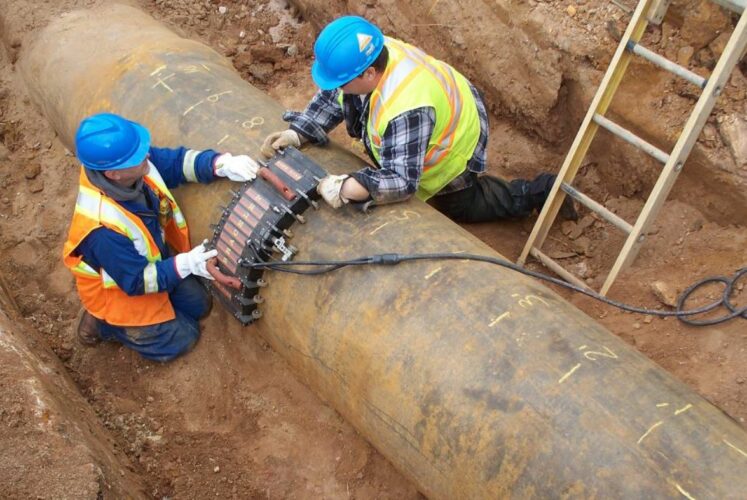 While the Bracelet Probe is typically applied from the outside while the pipe remains in service, an internal version can be used when a line is empty and clean. The internal device functions much the same way the external probe does, except that it scans the pipe circumferentially, covering 24 inches axial length for each rotation and can be adjusted to fit a pipe's interior dimensions.
In 2017, the San Diego County Water Authority used the internal Bracelet Probe in tandem with PICA's Electro Magnetic Inspection Tool (EMIT) to inspect many miles of its raw water large diameter pipelines. The Bracelet Probe was instrumental in this because it was able to inspect internal sections of pipe that were otherwise challenging to reach. So while the EMIT tool scanned the more straightforward long-lined stretches, the internal Bracelet Probe accessed the more awkward pipe bends near any bulkheads.
Data is stored on a hard drive as the Bracelet Probe moves along the pipe. The process repeats until all desired areas are scanned. Although the client receives preliminary data immediately, PICA provides a full report, including precise locations of areas of concern and wall loss percentages, when inspections are completed. Reports include 3D colour maps, strip charts and voltage planes to help clients understand the data and take action to spot-repair any wall loss detected.
Martin Coghill, operations and maintenance manager with the SDCWA, says his utility used the internal Bracelet Probe to identify, verify and repair several localized defects. "It allowed us to prevent failures in pipelines and implement repairs in advance of any problem."
This profile was written by Saul Chernos, a freelance journalist specializing in environmental issues, for the July/August 2021 issue of Water Canada. The header image was provided by PICA Corp. 
The nomination period for the 2022 Water's Next Awards is now open! Learn more about the awards here.