Canada's largest multi-stakeholder water conference, the Canadian Water Summit, is coming to Toronto on June 18 at the International Centre. The 2014 Canadian Water Summit will put the spotlight on urban water issues and connect water professionals with paths that lead to solving the Canadian urban water puzzle.
"Across Canada and the world, people and organizations have realized that tackling our most pressing urban water challenges is essential to helping establish a strong natural foundation for our economy," said David Miller, president of WWF Canada and chair of the 2014 Canadian Water Summit. "Together, we have all the resources we need to ensure Canada's waters can thrive while supporting the needs of our communities and economy."
In addition to presentations from an impressive roster of speakers from the urban water sector, MPP for Toronto-Centre Glen Murray, award-winning Canadian photographer Edward Burtynksy and water expert Robert Sandford will deliver keynote addresses to delegates.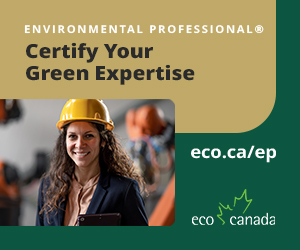 WHAT: The Canadian Water Summit is a landmark forum that fosters domestic expertise and connects leading Canadian work with the global community.
WHEN: Wednesday, June 18 – 8:45am – 5:30pm
WHERE: The International Centre, 6900 Airport Rd, Mississauga, Ontario
SPEAKERS:                
Cities and Water
Christopher Gasson, Publisher, Global Water Intelligence
David Angus, 2013 Chair, Joint Public Advisory Committee, NAAEC
Alexis Morgan, Director, AWS Global Water Roundtable, WWF/Alliance for Water Stewardship
Paulien Hartog, Strategic Advisor for Water, Region of Amsterdam
Robert Haller, Executive Director, Canadian Water and Wastewater Association
John Campbell, President and CEO, WaterfrontTO
David Rudolph, Professor, University of Waterloo
The Canadian Scene
David Moran, Director of Sustainability and Community Investment, Coca-Cola Canada
Ramona Doyle, Sustainability Coordinator, City of Charlottetown
David Main, Director of Asset Management and National Benchmarking, AECOM
Bernadette Conant, Executive Director, Canadian Water Network
Mike Nemeth, Environmental Specialist, Alberta WaterSMART
Managing Extreme Water Crises
Brenda Lucas, Executive Director, Southern Ontario Water Consortium
Bryan Karney, Professor, University of Toronto
Blair Feltmate, Associate Professor, University of Waterloo
Darwin Durnie, President, CPWA
Water in the Media
Doug Saunders, Columnist, The Globe and Mail
Lynn Patterson, Director of Corporate Responsibility, RBC
Krystyn Tully, Co-Founder and Vice President, Lake Ontario Waterkeeper
Alex and Tyler Mifflin, The Water Brothers
*For full list of speakers and panellists go to: http://www.watersummit.ca/?q=programming