The Commission for Environmental Cooperation's (CEC) Joint Public Advisory Committee (JPAC) has unanimously elected Canadian JPAC member Sabaa Khan as committee chair for 2019. She will succeed Mexico's JPAC member Gustavo Alanís-Ortega, who served as chair during 2018.
The CEC JPAC is composed of 15 volunteer citizens (five from each of Canada, Mexico, and the United States) and advises the CEC Council on any matter within the scope of the North American Agreement on Environmental Cooperation.
"The CEC is at a critical moment, its mandate having been re-established and expanded for a new generation under the NAFTA renegotiations. The new trade agreement signed between Mexico, Canada, and the United States recognizes the important role of Indigenous knowledge and practices in North American environmental conservation and cooperation […]" said Khan. "The new environmental agreement re-affirms the role of civil society actors and emphasizes the need for collaborative work on a number of pressing environmental and human health threats, such as marine, air and land pollution from high-emissions economies, extreme weather events, forest degradation, desertification, illegal fishing and wildlife trafficking."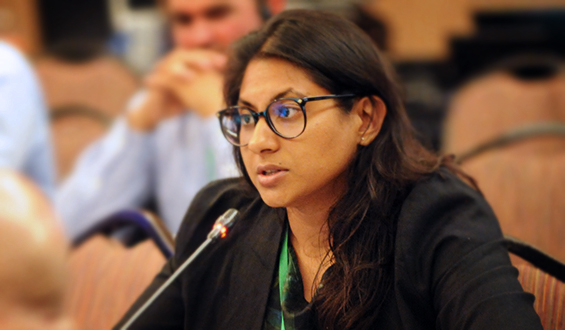 Khan is a member of the Barreau du Québec and senior researcher at the Centre for Climate Change, Energy and Environmental Law, based in Joensuu, Finland. In addition to her advisory work, research and publications on global environmental and trade governance, she lectures within the master's degree program in Environmental Policy and Law at the University of Eastern Finland.
In 2018, Khan was appointed co-director of the 15th UEF-UN Environment Course on Multilateral Environmental Agreements, held under the theme of Environment & Human Rights. During the NAFTA renegotiation process, Khan was a member of the Government of Canada's NAFTA Advisory Council on the Environment. She was also appointed by UN Environment to the United Nations Expert Group on Legal Frameworks for Chemicals and Waste Management (2017-2018), and by the American Society of International Law as their Official Observer to the UN Ocean Conference (2017).
"As JPAC Chair, my priority will be to listen to public perspectives on our shared environmental future and facilitate diverse and inclusive public participation in CEC decision-making processes. Continually, we are learning that human and environmental health concerns across the continent are interlinked," said Khan. "No border can separate this interdependency and thus it is imperative that we mobilize our governments to engage in meaningful and effective environmental cooperation, especially to enhance the environmental quality of life of the most vulnerable North American communities."
Originally from Montréal, Khan holds a doctorate from the Faculty of Law at McGill University, where she was an O'Brien Doctoral Fellow of the Centre for Human Rights and Legal Pluralism and member of the Labour Law and Development Research Laboratory. She also holds law degrees from the Université de Montréal (LL.M.) and University of Ottawa (LL.L.), and has held an international fellowship at the Institute for Advanced Sustainability Studies in Potsdam (Germany) as well as a legal clerkship at the International Labour Office in Geneva (Switzerland). Khan is currently working as principal investigator on a global environmental law and justice project funded by the Academy of Finland, which looks at human and environmental health inequalities along global chemicals value chains, with a special focus on the Arctic. Her other most recent independent and collaborative works address Arctic black carbon pollution, the global recycling chain, and the international regulation of hazardous chemicals and wastes.