The Alberta Land Trust Grant Program has approved more than $7 million to support 24 different projects for the 2017–18 grant cycle, supporting grants that protect watersheds and wildlife habitats on private land and help keep ranchlands intact.
"I'm proud of our government's work to conserve Alberta's incredible landscapes. We are preserving critical habitat and safeguarding these areas for future generations," said Shannon Phillips, Minister of Environment and Parks. "I would like to thank the generous Alberta landowners who are working with these land trusts to support conservation efforts on their property."
Grants will support projects by the Alberta Conservation Association, Ducks Unlimited Canada (DUC), the Legacy Land Trust Society, the Nature Conservancy of Canada, the Southern Alberta Land Trust Society (SALTS), and Western Sky Land Trust.
SALTS received approximately $2.6 million for five different projects, including one that will protect 504 hectares of ecologically valuable land at the WineGlass Ranch near Cochrane and Calgary. Home to many elk, deer, and large carnivores, the area is under pressure from encroaching residential development. The land has been in the same family for more than 131 years.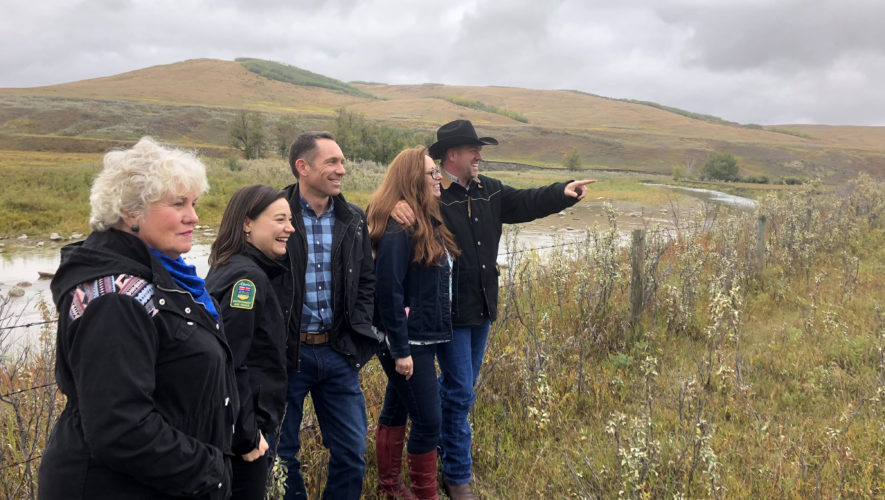 "This project is a perfect example of how private land conservation benefits all Albertans," said Justin Thompson, executive director, Southern Alberta Land Trust Society. "The Wineglass Ranch surrounds Jumpingpound Creek, a source of Calgary's drinking water, so keeping the property as healthy grasslands instead of roads and houses will help maintain water quality for hundreds of thousands of people."
Ducks Unlimited Canada will receive nearly $450,000 in grant funding to enhance protection of six parcels of land in central and southern Alberta. These land parcels are made up of key prairie landscapes, including native grassland, wetland, and parkland habitats.
"Conserved wetlands and their associated uplands do so much to enhance the lives of Albertans. Yet every day, these remarkable natural areas continue to be threatened and lost," said Ron Maher, manager, provincial operations, Alberta, DUC. "Ducks Unlimited Canada works tirelessly to prevent these losses, especially on private land, but we know we can't do it alone."
Two large parcels of land in southern Alberta will be conserved for future generations with a grant of more than $1.7 million for Nature Conservancy of Canada.