Earlier this year, the Government of Alberta committed $10 million to help communities along river basins prepare for floods. The funding included $2 million for short-term flood-prevention equipment, supplies, and mitigation efforts to protect critical infrastructure, homes, and businesses.
"It's crucial that we support our communities across the province so they are ready to deal with emergencies and keep people and property safe," said Shaye Anderson, Alberta's Minister of Municipal Affairs. "We've added equipment to our provincial flood stockpile and quickly identified communities that need a boost in their ability to prepare for flood emergencies."
Calgary has been allocated $1 million to support a variety of flood mitigation projects, including high-volume water pumps and temporary flood barriers that require less time and resources to build than permanent barriers.
Eighteen other at-risk communities received $10,000 to review and update their flood-readiness plans and submit project proposals to the province for funding. Twelve of these proposals have been accepted and the communities are receiving additional funding for immediate projects to prepare for the current flood season.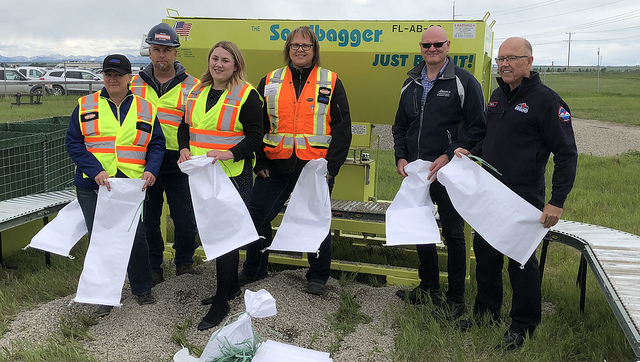 "The Municipal District of Foothills greatly appreciates the funding provided by the Government of Alberta that will help the municipality to purchase equipment that will assist in responding to future events in a more efficient and effective manner," said Larry Spilak, reeve, Municipal District of Foothills.
Communities receiving funding throughout the province include:
Clearwater County: $156,000
Municipal District of Foothills: $43,250
Municipal District of Big Horn: $30,000
Kananaskis Improvement District: $40,000
Mountain View County: $50,000
Municipality of Crowsnest Pass: $137,700
Rockyview County: $25,000
Town of Banff: $87,387
Town of Drumheller: $128,500
Town of Okotoks: $70,500
Town of Sundre: $13,780
Town of Whitecourt: $100,000
Projects will assist communities with overall flood-readiness and may include:
Protecting critical infrastructure such as bridges, roadways, water treatment plants, homes, and utilities
Ensuring that emergency coordination centres are prepared
Equipping reception centres
Training staff and public education
Purchasing flood barriers, sand-bagging machines, industrial pumps, drones and generators
"Public works plays a critical role in all emergent situations. We are often the first ones on scene and the last to leave once the restoration is complete," said Peter McDowell, president, American Public Works Association Alberta Chapter. "American Public Works Association Alberta Chapter is very pleased to hear about the commitment the Alberta government has made to our communities to assist them with their flood readiness plans."
The larger $10-million emergency preparedness investment also includes $3 million to add equipment such as rapid deployment trailers, portable dams, sandbag fillers and pumps to the provincial stockpile.
The remainder of the funding may be used to help communities at risk prepare large-scale emergency mitigations, such as fortifying infrastructure or draining reservoirs in the event that weather forecasts predict an imminent flood threat.