The history and prosperity of the Netherlands are inseparably linked with water, it's in the Dutch DNA. Large areas of the Netherlands have been reclaimed from the sea and two-thirds of the country would regularly flood if it weren't for an innovative, complex and inter-linked system of dikes and surge barriers. But water management is never a standalone theme, it is an integral part of resiliency strategies and urban planning in the Netherlands.
The acclaimed Dutch artist Daan Roosegaarde captures the universal power, poetry, and danger of water in his public art intervention WATERLICHT ('water light'). As a virtual flood, WATERLICHT shows how high the water could reach and raises awareness about rising water levels. This unique experience reminds us as well of the role and importance of innovation.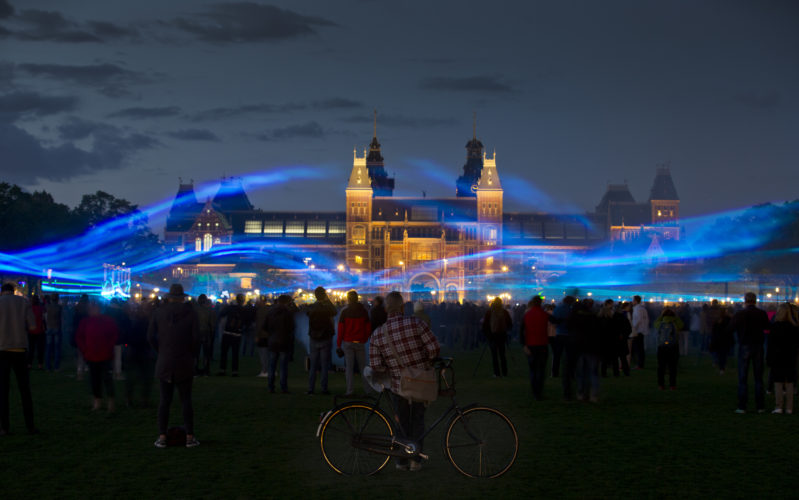 "I want people to experience the wonder but also the risks of water on a physical level, creating an experience you cannot download.  WATERLICHT shows how the Netherlands would look without waterworks; a virtual flood.  Innovation is seen throughout our landscape, pushed by the waterworks and our history, but yet we almost seem to have forgotten this." says Roosegaarde.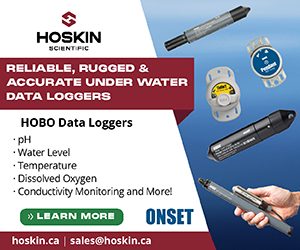 Background WATERLICHT
Originally, WATERLICHT was created for the Dutch District Water Board. As a travelling exhibition, site-responsive versions have been staged in Amsterdam's Museumplein, London's Granary Square, Paris' Parc Clichy-Batignolle, and recently in New York at the United Nations' headquarters. This large-scale light installation will have its Canadian public premiere at The Bentway in Toronto from Friday October 12 to Sunday October 14, 2018. A combination of LEDs, special software and lenses will create ever changing, larger-than-life cascading waves of blue light, influenced by wind and rain. It will soar underneath the Gardiner Expressway, simulating a virtual flood and calling attention to rising water levels along Toronto's shoreline. Due the unique nature of the installation, WATERLICHT can only be viewed after sunset: from 7PM-11PM.
Video of a WATERLICHT show by Daan Roosegaarde.
WATERLICHT is the signature piece within The Bentway's fall public art exhibition, "If, But, What If?" It will be accompanied by a customized soundscape, including local stories about Toronto's waterfront by prominent civic figures, historians, artists and others. WATERLICHT RADIO will focus on pressing issues and personal memories related to Toronto's waterfront. The stories will live on as an enduring legacy of WATERLICHT's appearance in Toronto and serve as a stirring call-to-action for a city-wide conversation around clean water initiatives and climate change.
Besides the experience WATERLICHT, Daan Roosegaarde will also present 'Landscapes of the Future', at the Green Building Festival in Toronto on October 11, 2018.
About Studio Roosegaarde
Studio Roosegaarde is the social design lab of Dutch artist and innovator Daan Roosegaarde. Together with his team of designers and engineers Roosegaarde creates landscapes of the future for a better world. The studio connects people, technology and space to improve daily life in urban environments and spark imagination. Roosegaarde's mantra 'Schoonheid' is a Dutch word which has two meanings: 'beauty' and 'clean' as in clean air, clean energy and clean water. For Roosegaarde this should be a fundamental condition in daily life.
Roosegaarde has exhibited at the Rijksmuseum Amsterdam, Stedelijk Museum Amsterdam, Design Museum in London, Tate Modern, the Mori Art Museum in Tokyo, the Musee des Arts Decoratifs in Paris, Google Zeitgeist and the Victoria & Albert Museum, and won numerous international innovation awards. In 2017 Studio Roosegaarde showcased The Smog Free Tower in Toronto, a building running on wind energy that uses patented ion technology to produce smog free air in public spaces.
More events this year with Dutch participation
Daan Roosegaarde is one of the many Dutch professionals who come to Canada to share Dutch knowledge and expertise. We've listed all the water related events that include Dutch participation in a blog post on our website of the Netherlands' network in Canada.