The Canada-EU Economic and Trade Agreement (CETA) moved closer to full implementation this fall. A late- October challenge from the Walloon region of Belgium threatened to knock negotiations off course, but concessions were made, and a ratification ceremony in Brussels went ahead on October 30. A draft agreement was signed by ministers paving the way for ratification by the Canadian and European parliaments.
Now that the freshly negotiated agreement is poised to deliver, what effect will CETA have on this country's water sector? How will the new free trade agreement reorient the Canadian water industry?
Experts warn it will be some time before final ratification occurs. And there are legal interpretations of language to be sorted out, as CETA contains several new ideas not found in previous free trade agreements. But pro-business types agree that the deal comes at a good time for Canada. Ninety-eight percent of the customs duties between Canada and the EU will be removed, including restrictions on public procurement contracts. Canada will be the only developed country in the world with guaranteed preferential access to both the North American and EU markets—a unique Canadian advantage in the age of Brexit and Trump.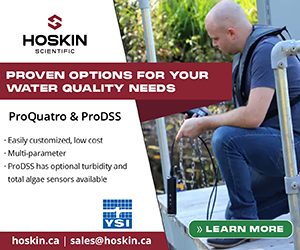 Janet Bobechko, a senior partner at Norton Rose Fulbright Canada, emphasized the opportunities that are opening up for companies in the water sector. "Like Canada, Europe faces the issue of ageing infrastructure. As Canadians, we have some great advantages. There may be opportunities for our cleantech companies, our leak detection expertise, as well as membranes, data analysis, and water data gathering," she said.
Open for business
One key measure in CETA that may affect the water industry involves the ability of companies to bid on goods and services tenders at the municipal level (for, say, wastewater systems). In previous trade agreements like the North American Free Trade Agreement (NAFTA), municipalities and territorial and provincial governments have not been included. According to Bobechko, the European negotiators were adamant that the lower governments be included: "They said, 'We don't want to make a deal with only the Feds.' […] That's why the provinces were at the table."
The result: provincial and municipal governments will have to treat EU companies the same as Canadian ones when it comes to awarding service or procurement contracts. "This is one of the big trends. […] Canadian companies now have to treat Euro companies bidding on contracts the same as Canadian companies." .
The benefit according to basic economic theory is that there should be more competition for contracts leading to lower bids. But critics have expressed concern that EU companies could end up privatizing more utility operations. Bobechko does not think that will happen. She acted as legal counsel for a Ministry of Environment provincial officer at the Walkerton hearings. "One thing we learned from Walkerton was that ownership has to remain at the municipal level. At the end of the day the ownership will remain with the municipality," she said.
Watering the world
Another fear that is frequently expressed by those who are wary of new free trade deals is that of bulk water transfers. However, article 1.9 of CETA is structured to ward off those fears. "Nothing in this Agreement obliges a Party to permit the commercial use of water for any purpose, including its withdrawal, extraction or diversion for export in bulk," reads the text.
Jacqueline Wilson, a lawyer with the Canadian Environmental Law Association (CELA), said that there could be a path to commercialization of water resources. She pointed out sections of CETA (Annex II) that uphold EU companies' immediate rights to water resources if those water resources are commercialized by a Canadian government. "If the government opens it up, it opens up quite broadly. […] If the state wanted to reverse that decision to use water commercially, the language seems to leave that decision open to challenge by foreign investors," said Wilson. "What could be included under Annex II is something Canadians should have concerns about. It's hard to say how that will be interpreted. We're certainly concerned."
Agriculture and CETA
Another area of trade that is bolstered by CETA that could have consequences for Canadian watersheds is agriculture. Canada is already the world's fifth largest exporter of foodstuffs. CETA is poised to increase Canada's exports to the EU. Could the agreement set up a sharper conflict between economically-advantaged experts and domestic conservation concerns?
Francis Scarpaleggia is a Liberal MP and chair of the national Liberal caucus on water. He thinks CETA could be more protective of the environment than other agreements like NAFTA. He pointed to articles 24.5.1 through 24.5.3, which state, basically, that it is inappropriate to "encourage trade or investment by weakening or reducing the levels of protection afforded in their environmental law." Compared to NAFTA (or even earlier agreements like the General Agreement on Trades and Tariffs) Scarpaleggia said that CETA, "[…] gives more latitude to a country that wishes to prohibit, or restrict, the bulk export of its water."
Old and new partners
In the U.S., Trump came into office on a promise to renegotiate NAFTA. That has some wondering if the age of globalization has hit some kind of turning point. "Brexit and Trump have added some confusion. There are a lot of moving parts right now," admitted Bobechko. Others suggest that Canadian politicians need to push forward with CETA now more than ever. This country is seemingly, suddenly, one of the last bastions of liberalized trade among major developed western nations, and so it has a role to play in preserving a rules-based global economic order. To this end, Canadian finance minister Bill Morneau recently stated that Canada expects Britain to be part of the EU trade deal, even if that country makes a break with the continent. Minister of International Trade Chrystia Freeland has stated she is "worried" about the new anti- global trade talk from Trump.
Interestingly the late-in-the-game protests by the Walloon region in Belgium could see one of the most contentious parts of the agreement—the so-called investor dispute mechanism—removed from the text. This most contentious part of CETA gave corporations the right to take a trade dispute to a forum set up outside of the purview of Canadian courts for settlement. The removal of that specific measure is, apparently, one of the key demands of the Walloon region. According to Bobechko, ridding the agreement of the dispute mechanism wouldn't be a big deal and would make the deal even stronger if its removal generated wider popular support.
"If you're investing into Canada and you were subject to the dispute mechanism, you would have a right to bring certain claims outside of Canada and into an international commercial court. Those clauses are put in when you think you won't get a fair shake in a country's court system. But these measures are less of a concern when you're talking about Canada and the EU. Our commercial arbitration courts are strong," she said.
Taking advantage
Bobechko returns to her key message, that CETA is an opportunity for companies to exploit new markets. "We have an opportunity here. Start thinking about what the opportunities might be and how to execute on those," she said. "At the end of the day, our advice is read through the text, go through it. Remember that we don't know how things are going to be interpreted yet; but we should start thinking about how [to] take advantage of this agreement."
She noted that many European countries have highly evolved and efficient water systems. The large population base living on a relatively small land base demands that. "They are efficient when it comes to water because they have to be," she said. But if large countries like Germany represent mature and developed markets, there are opportunities in many of the smaller, more marginal regions like Latvia or Romania. I think the government has to offer some support here in the roll-out to get people over there, to begin making connections."
Bobechko said executives should take advantage of the CETA training sessions the federal government has provided, trade missions, and networking opportunities. Companies interested in new global opportunities should also do research on how European procurement works.
"When people get worried about competition, I think we're in trouble. Too often we get stuck in our own neighbourhood. I think we have work to do, but we also have an opportunity. I'm passionate about this. It's a global world. Let's get out there."