How do we build a future where we have the data necessary to make confident, transparent, and inclusive decisions to protect freshwater? This question is what drives our work on DataStream—an open access platform for sharing water data.
In growing DataStream over the last few years, we have had the privilege to meet some of the most extraordinary and passionate people working from coast to coast to coast to understand and protect freshwater health. To date, over 135 organizations have collaborated with us to openly share their findings on DataStream. We now have more than five million observations from over 10,000 sites across Canada.
As we prepare for the fall release of our fourth regional hub, Great Lakes DataStream, we have been reflecting on water data availability today and what is needed to support more open data flows.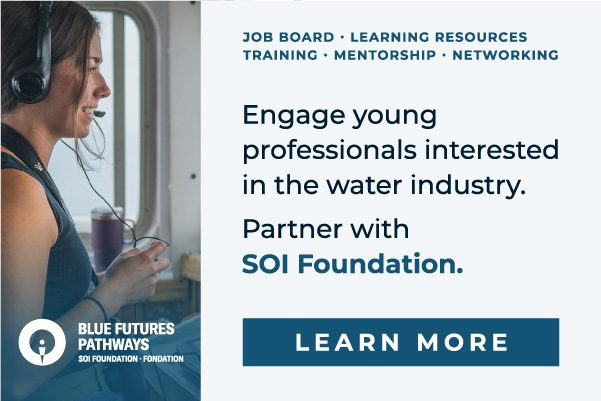 Data access issues continue to hinder freshwater research and decision-making
There is a rich diversity of water monitoring and research underway across the country. This includes government and academic programs and increasingly, sophisticated community-based programs run by watershed groups and Indigenous Nations and organizations.
The data collected by this complex web of efforts is invaluable. However, the very qualities that make these initiatives so impactful—the diversity of organizations collecting data and their distribution across landscapes—also pose challenges for managing the data they generate.
It can be difficult and, in some cases, impossible to pull together data collected by such a wide range of initiatives in order to answer basic questions about the health of watersheds. In its 2020 Watershed Reports, WWF Canada was unable to provide health scores for 60 per cent of watersheds due to a lack of available data. Importantly, this does not necessarily mean the data does not exist, but simply that it is inaccessible or is provided in formats that make it unusable.
This lack of access to structured, usable data imposes a major burden on researchers and decision-makers across sectors. For example, we have heard from some researchers working on watershed models that they can spend up to 50 per cent of their time finding and formatting data before getting down to their real work. These data scavenger hunts turned repetitive data-formatting missions are replicated by researchers again and again across the country, often while working on the very same datasets.
In other cases, though data are available, they may be unusable. A 2016 study in Water Research by United States Geological Survey researchers illustrates the potential economic loss when data is not well described. The study examined 25 million nutrient records collected since the late 1800s by hundreds of organizations in the United States to determine their reusability or "secondary use." The authors found that more than half of the records had ambiguous metadata and they estimated the value of these ambiguous records to be $US 12 billion.
These data management challenges are frustrating, inefficient, and a major hindrance to our collective ability to understand and respond to environmental changes that are increasingly complex and have severe impacts on our lives and livelihoods.
Advancing openness in water science
The need for ready access to data was recently highlighted in the recent Environment and Climate Change Canada (ECCC) What We Heard report, which summarizes stakeholder engagement about the formation of the Canada Water Agency (CWA). When 2,700 people ranked 10 potential objectives to enhance freshwater management in Canada, having "data and information… available to support informed decision-making at all levels" came in second. The report goes on to state that "comments frequently underscored the importance of access to reliable freshwater data through increased sharing and access to open data."
Clearly, improving data access is a priority and doing so is a major undertaking that requires systems changes and cultural shifts. Thankfully, these shifts are underway. Governments at all levels in Canada and around the world are adopting open by default policies, while funding agencies and journals are requiring open sharing of datasets as a mandatory requirement for receiving funding or acceptance for publication.
These top-down levers are important in driving change and are more often than not supported by researchers. In the 2019 State of Open Data Survey of more than 8,500 members of the research community "69 per cent of respondents think that funders should make the sharing of research data part of their requirements for awarding grants" and "67 per cent of respondents think that funders should withhold funding from, or penalise in other ways, researchers who do not share their data if the funder has mandated that they do so."
While these high-level drivers are key to achieving more open access to water data, it is equally important that resources are available to help organizations of all sizes adapt and build internal capacity for managing and sharing data. This is true across sectors and certainly true for community-led efforts.
Supporting community monitoring supports more collaborative, responsive water management
Across Canada and around the world there is a growing movement of community-based water monitoring and research initiatives. These programs are grounded in local concerns and priorities and are driven by individuals and organizations with a very real, vested interest in safeguarding their local waterways. For this and many other reasons, organizations including the Our Living Waters network have consistently been highlighting the importance of community water monitoring. This will continue in the fall, with the release of the Business Case for Community-Based Water Monitoring in Canada report. The new report examines the cost-effectiveness and value to Canadians of local organizations understanding what is happening to their lakes, rivers, and streams and using data to inform decisions.
Increasingly community programs are interested in openly sharing their data and at DataStream we work with many of these groups to help make this happen. For example, as part of the Great Lakes DataStream Data Drive we are offering tailored one-on-one sessions with our Data Specialists to address the necessary but often nitty-gritty questions that must be answered to arrive at comprehensive and unambiguous datasets.
In other cases, we collaborate with other platforms to make data as open as possible. Our most recent collaboration is a great example of this. In 2021 DataStream began working with Water Rangers, which equips communities with the tools to actively monitor and manage their waters, in order to accelerate data sharing in the Great Lakes region. This collaboration means that data uploaded to Water Rangers' platform by community groups will feed directly into Great Lakes DataStream, where it can be accessed by decision makers and scientists.
All of the extensive work being done by the water community across Canada to generate and openly share data is very exciting. Among other things, this paves the way for community data to be used in decision-making at all levels, both now and in the future. This could be transformational. Having data flow this way could build and reinforce lines of communication from the local to regional and national levels, fostering a more collaborative approach to managing water—one where we have the data necessary to make confident, transparent, and inclusive decisions to protect freshwater.
This article was written by Carolyn DuBois, the executive director of the Water Program at DataStream, for the September/October issue of Water Canada.