It may come as a surprise to some within the water industry, but the practice of water reuse and recycling has been around for about a century.
Reclaimed water is former effluent water such as stormwater, greywater, and domestic wastewater that would have traditionally been disposed of, but instead is treated (at varying degrees, depending on the location) and reused for varying purposes (depending on the level of treatment).
Water reuse generally refers to the beneficial use of reclaimed water. Oftentimes, reclaimed water is used for irrigation purposes, but in some locations the treatment of reclaimed water produces better-quality water that can be used as potable water.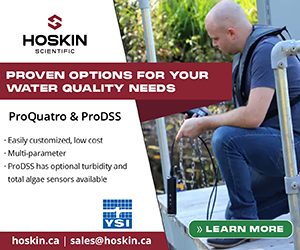 Water recycling means treating water and returning it back into the same process. Industrial water recycling is fairly common in Canada with many industries recirculating cooling water and boiler feed. It has been estimated that industry accounts for 80 per cent of Canada's total water intake. Of this intake, approximately 40 per cent is typically recycled.
The reuse of water has become commonplace for some countries and cities in the world due to the freshwater scarcity. The greatest use of reclaimed water is found in the Middle East, Australia, the Mediterranean, and the southwestern United States.
Water reuse is also growing in Florida, France, Spain, and Italy where restrictions on effluent disposal make the practice economically viable.
Reuse in Canada
In Canada, there are some locations where the need for water has outstripped the freshwater supply. Some municipalities, such as those in Southern Alberta, experience shortages and are faced with the task of providing water to a growing population and meeting the demands of industry and the agricultural sector.
Although there are dozens of possible uses for reclaimed water, the more popular ones include agricultural and landscape irrigation, industrial reuse, groundwater recharge, and recreational/environmental. The popularity of water reuse is the inverse if there's the possibility of public contact and use.
Using reclaimed water for agriculture is well established in Western Canada. One of the oldest water reclamation projects in Canada can be found in the City of Vernon, British Columbia. For over 30 years, treated water from the City's wastewater treatment plant has been pumped seven kilometres to a reservoir. The water in the reservoir is subsequently used to irrigate 970 hectares of agricultural and recreational lands.
The oil and gas industry is a leader in Canada with respect to research and development of water reuse.  In the Alberta oilsands, up to four barrels of water is required to process one barrel of oil. There is intensive public, political, and environmental pressure on the industry to reduce this ratio.
Municipalities and industries that reclaim water generally do so for practical reasons. The added benefit of the practice is that it promotes environmental sustainability and protects receiving waters from potential contaminants.
Innovative reuse technologies
The development of water recycling and reuse technologies is generally driven by the focus ensuring treatment meets adequate quality criteria. In general, the removal of pathogens is the primary objective in treating water for reuse. In some reuse applications, the removal of chemicals or heavy metals may be of great importance. Most recently, emerging contaminants such the chemicals found in personal care products have garnered greater attention.
There are a wide range of technologies available for treating water for reclamation or reuse. The technologies used can range from a low cost, low technology piece of equipment such as a simple screen to physically remove suspended solids to sophisticated, high technology systems such as physical-chemical-biological treatment trains.
Membrane technologies such as ultrafiltration, nanofiltration, and reverse osmosis are growing in use as a means of treating wastewater for reclamation and reuse. As many people in the water industry know, there are several companies in Canada well known for their development of membrane treatment technology.
The Gold Bar Wastewater Treatment Plant in Edmonton reclaims water for on-site practices including tank washing, equipment washdown and dilution water for polymer addition for the dissolved air sludge thickening process. It also provides up to 10 million litres of reclaimed water to the nearby Petro-Canada refinery.
To ensure the reclaimed water sent to the Petro-Canada refinery was of adequate quality, the Gold Bar Treatment polishes treated effluent with a a combination of biological treatment, secondary clarification and filtration into one process step. The reclaimed water is then pumped 5.5-kilometre pipeline to the Petro-Canada refinery.
Innovative reuse policies and practices
It isn't a coincidence that reuse of water is predominant in water-scarce countries and regions around the world. Besides the obvious availability and cost of water, the move by industry and municipality to recycle and reuse more water can be driven by regulation and public pressure.
The technology exists today to clean effluent to any degree of purity. The real challenge is to determine if a water reuse or recycling project is necessary, economic, and applicable. In geographic areas where there is an abundance of water, adequate wastewater treatment facilities, and accommodating buffering capacity in the receiving waters, it will be difficult to justify the environmental and economic need for recycling water.
A number of recent developments in Canada will result in an increase in the reclamation and reuse of water. The first is the drive by municipalities toward full costing of water. The increasing cost that industry will pay will make water reuse schemes economical.
The second development that will increase water recycling rates in Canada is proposed national wastewater systems effluent regulations. When promulgated, the regulations will establish national effluent quality standards. As such, some existing wastewater treatment plants will require upgrading. During the planning of upgrades, water reclamation and recycling opportunities may arise with adjacent industry or within the municipality itself.
The third development that shows that water recycling and reuse is poised for growth is the recent announcement by the Ontario government that it wants to make the province the clean water technology capital of North America. This announcement is a signal that the provincial government is prepared to fund research and development of new technologies, provide opportunities of the implementation of new technologies in Ontario, and promote their export.
Water reuse, recycling, and reclamation will continue to grow in Canada. Good public policy, clear regulations and standards, along with strong research and development will help Canada become a world leader in this subsector of the water industry.
John Nicholson is with Environmental Business Consultants and is the former editor of this magazine. Morgan Vespa is studying geography at the University of Guelph.