In the Canadian water industry, professionals from different regions work with unique natural challenges and political systems. Organizers behind the Water Initiative for the Future (WatIF), an upcoming national conference for university graduate students in the water sector, hope to overcome these challenges by promoting early career collaboration.
Donya Danesh, a PhD student in Queen's University's biology department, and Sarah Thompson, a master's student in the Queen's department of civil engineering, are co-chairs of the upcoming conference. WatIF will be hosted by Queen's and will gather students preparing to enter careers in the water industry from across the country. Together with an organizing committee composed of students from a number of diverse disciplines, Danesh and Thompson are hoping to create a unique event that will encourage future collaboration across disciplinary, geographical, and institutional lines.
The 2014 version of the event, taking place May 4 to 6, will include students from universities across Canada; last year, the event was limited to students in Kingston, Ontario.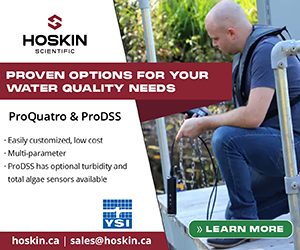 "We were asked to run a student-run local symposium to bridge the gap between Queen's and Royal Military College," Danesh says. "We brought together over 90 students and professors from both campuses, and students had the chance to see the type of water research that was happening on both campuses. It was just amazing to see how engaged and excited students were to be talking to each other—their own peers—about water research."
While Danesh and Thompson consider the 2013 symposium to have been a success, it also opened their eyes to the limitations of performing research in the restricted settings of disparate academic institutions. The 2014 conference will highlight the need for collaboration and communication across geographical and disciplinary boundaries.
"What we wanted to do this year was make it more interactive," Thompson says. "Last year, the event only lasted a day, and everyone was giving a presentation. It was great, and academically very useful, but we want to meet the attendees' academic requirements and provide an experience that's more than just a one-way conversation."
Danesh adds, "We want to get these upcoming water leaders comfortable with collaborating, with interacting with each other, with getting comfortable with talking to people outside their field of research, but focusing on the same topics."
To address these needs, organizers have included a water-trivia-style event in the program, as well as a poster hour where students will have the opportunity to present posters explaining their research to working professionals in the water industry. The poster hour will lead directly into a networking event called "Expert Evening," where students will be able to interact with attending water professionals.
Despite the inclusion of these water industry pros in the networking portions of the conference, organizers have placed a heavy emphasis on the student-oriented nature of the event.
"There are a lot of conferences out there that are organized by industry, but they offer something completely different from what we offer," Danesh says. "They provide guidance, and we get to see what fully developed projects people far along in their careers are doing, but there doesn't really exist a conference that is fully focused on students in the water industry, and I think that as students, we are the only ones fully able to recognize the need for that."
Perhaps the most important opportunity that WatIF provides is the chance for students to network with one another and create working relationships at the onset of their careers.
"One of the main things we want to achieve is to create a community of early water leaders," Thompson says. "We wanted to create an environment that doesn't exist right now where young researchers at the beginning stages of their careers could come together to develop a long-lasting relationship, looking forward to the future."
The organizers are hoping that creating professional relationships as early as possible will encourage collaboration across some of the geographic and political lines that currently divide policy and research. As they are eager to point out, water is a trans-boundary issue.
"There's a lot of red tape that exists in Canada right now, a lot of policy based on provincial or territorial perspectives, as opposed to a national view," Thompson says. "Canada is so diverse; we all have different water challenges from province to province and territory to territory."
This mentality of encouraging collaboration across the country also informs the organizers' enthusiasm for cross-discipline interaction. WatIF will emphasize the limitations of tackling water challenges with a "siloed approach" and instead promote multidisciplinary interaction in pursuit of solutions.
This is the first year WatIF is being organized as a national conference, but Danesh and Thompson are confident it will take on a life of its own after they graduate and it comes under the guidance of incoming students.
"Sarah and I and our committee of grad students have our own dream of what we could do with this conference," Danesh says. "It will definitely be at least a biannual event. There's been huge momentum here and we've had a very positive reaction from students and industry saying, 'This is needed.'"  WC
Clark Kingsbury is Water Canada's assistant editor. This article appears in Water Canada's March/April 2014 issue.