Let's Talk About Water was recognized in the Education and Outreach category of the 2021 Water's Next Awards. 
Let's Talk About Water (LTAW) is a growing platform for discussing water science in a manner that's accessible to as many people as possible, taking research out of the proverbial ivory tower and making it accessible through podcasts, social media, international forums, and film festivals.
LTAW discusses water-related issues vital to our collective wellbeing often before they make headlines. At the very start of the COVID-19 pandemic, LTAW worked with the Global Institute for Water Security at the University of Saskatchewan to produce a podcast highlighting the potential epidemiological benefits of monitoring SARS-CoV-2 in wastewater. This led to increased mainstream media coverage and even further scientific collaboration.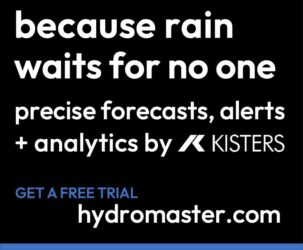 Through online festivals and awards programs, LTAW has promoted film as a medium for discussing water and its crucial role in the future of our planet. Films presented by LTAW have gained significant traction, with more than 13,000 views from nearly 40 countries.
LTAW's themed forums have been attended or viewed by more than 5,000 people globally, and youth engagement efforts have helped thousands of school-age children learn about water and climate science.
With the goal of reaching not only the public but to spur business sectors and policymakers to make informed environmental choices and effect positive change, LTAW has used social media to reach hundreds of thousands of people with more than 20,000 social media engagements and interactions recorded.
If LTAW has a keynote, however, it's the podcast hosted by Dr. Jay Famiglietti, a hydrologist and executive director of the GIWS with University of Saskatchewan, that's entering its third season.
Notable guests include world-renowned economist Jeffrey Sachs, a professor and former director of the Earth Institute at Columbia University in New York City. "He's a pioneer in thinking about the UN Sustainable Development Goals," says Famiglietti. "He's a great communicator, and we wanted people to understand the challenges for actually achieving sustainability in water."
UN sustainability goals might lack tangibility for listeners in a big city or busy with their own lives, but Famiglietti says people from all walks of life need to understand that climate change not only means increased weather extremes but stands to directly affect our food and water. "It's important for people to realize this actually impacts us personally, right here at our faucets, right here in our mailboxes when the bill comes in."
The podcast speaks in different ways and at different levels. Famiglietti recently discussed environmental racism with Dr. Ingrid Waldron, a professor at Dalhousie University in Nova Scotia who co-produced the 2019 film There's Something in the Water, which is based on her book of the same title.
The conversation addressed efforts to tackle the fact that marginalized communities such as Black Canadians and Indigenous communities often bear the brunt of water pollution and climate change and are disproportionately affected by cancer clusters. "Educating the communities about their rights and putting pressure on elected officials to deal with these crises are all goals of having Dr. Waldron on the podcast," says Famiglietti.
Let's talk About Water is about communicating science to everyday Canadians and making it public and accessible, Famiglietti says. "I could be writing another research paper, but instead I'm devoting my time to this because I want to bring that scientific understanding, translate it, and make it understandable to a much broader audience."
This profile was written by Saul Chernos, a freelance journalist specializing in environmental issues, for the July/August 2021 issue of Water Canada. The credit for the header image goes to Mark Ferguson.
The nomination period for the 2022 Water's Next Awards is now open! Learn more about the awards here.