Watching dirty water get mixed in jars isn't usually what comes to mind when you think business competition. But it's hard not to see the value of the demonstration when one jar suddenly becomes clear.
There is no denying that innovation in water treatment systems relies on both mechanics and chemistry and how seamlessly they can work together to solve a problem. For co-founder and CTO of CarboNet, Michael Carlson, uniquely tuning water treatment chemicals to the equipment they'll be used with is key to avoiding failure.
"If you're trying to make the process match the chemistry, you're going to be in for a hard time".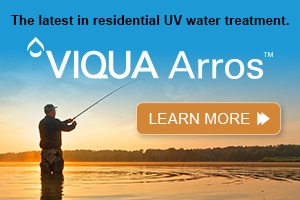 It's a lesson learned from experience.
While completing his PhD in biochemistry, Carlson noticed some of the polymers he was working with were behaving in ways they theoretically shouldn't be by forming unintended complexes. Around this same time, offshore oil spills—their dreaded aftermaths and the race to find reliable ways to both prevent and remediate disasters—were making headlines around the world. The significantly high levels of oil dispersants that were used in the hopes of sinking hydrocarbons beneath the water's surface to protect marine wildlife, was having the unintended effect of creating a toxic stew.
There had to be a better way of dealing with oil. What if instead of simply dispersing oil you could fish it back out with some kind of designed chemistry?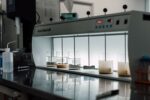 "I took the molecules that I hypothesized were going to work, put them together, hit it with oil, and it just worked," recalls Carlson. Though his unconventional chemistry helped him walk home with a win, it wasn't yet clear exactly how this innovation would be applied in the real world.
"We had technology searching for a problem."
Fast forward a few years and the hydrocarbon magnet Carlson created turned out to be the very thing water treatment operators in oil and gas were looking for. This took Carlson and a newly formed team of chemists and experienced entrepreneurs to the Permian Basin of West Texas to use the magnet in the heart of oil country. They were new and untested, and in true Canadian fashion showed up on-site in the only fire-resistant clothing they could find on short notice: poorly fit coveralls.
"In Texas, no one wears those suits—you just have really nice jeans and jackets that also happen to be fire-resistant," says Carlson. "The company showed up in really fashionable jackets and jeans. Totally comfortable. We were all in these goofy Canadian fire-resistant suits."
The nervousness continued into bench-scale testing where every move was being closely monitored by the company who had brought Carlson's team in. "He watched me every single time, every single step. He never let the sample leave my hands because they've had so many issues. They've had a company come in and literally treat the water and then dump the water out and then replace it with distilled water."
This kind of collaboration and field research paired with lab experiments help develop commercial products using the NanoNet platform, which Carlson defines as "the technology base that you build other things off of".
The same technology that powered his original discoveries during his PhD and won the business competition power became what is now known as the NanoNet platform. This is the foundation used for building self-assembled, colloidal nanoparticles called NanoNets. Every NanoNet has two key components: a targeting component used to bind particles and a scaffolding component used to control them.
"Marrying the scaffolding and the targeting component is very important whether you're trying to bind dissolved stuff in water and stabilize it, or remove it or filter it, or you're trying to mask a site so you're only flocculating one kind of solid," says Carlson. "Either way, you want to make it so that the targeting component is binding something reproducibly and that scaffold is controlling what it does."
Creating new combinations and manipulations contribute to the NanoNet library that the team can then use to solve various water contamination challenges.
"We're using the NanoNet platform to cover several market needs and find solutions to different problems that are out there," says Khatera Hazin, director of Research and Development at CarboNet. "I find it very interesting what you can do. Taking one chemical and designing solutions that are able to treat all these different waters. We can go from oil and gas and produced water, to mining, agriculture, and eventually potable water."
The platform has gone on to create a flocculant that's taken the Permian Basin by storm. CarboNet SimpleFloc™ is a treatment that boosts the efficacy of traditional flocculants like polyacrylamide by maximizing its bridging potential allowing operators to effectively dose less polymer into their treatment systems.
"If you eliminate polymer problems, it'll change what I'm doing," are words Carlson hears often. "We always have to design our chemicals with the end process in mind. And ideally, existing processes, because one of the hardest things to do in water treatment is to make new capital investments or try to swap an old CapEx over a new CapEx. You want the chemistry to enhance the ideas the engineers already put in place."
Carlson recognizes that CarboNet and the NanoNet platform are only a part of the solution when it comes to treating and recycling water. The operators, the equipment, and every treatment process are unique in their own way. But the goal isn't to save water single-handedly; it's about collaborating and working together to do so. "We've been listening to the market and are eager to apply our technology to solve important issues in water," Carlson states. "All water is different and hearing the voice of the customer to identify the biggest challenges has proven to be invaluable."
Erik Nielson is a product manager for CarboNet where his strong academic background in molecular biology and microbiology has helped to deepen his understanding of water treatment chemistry. Erik's extensive experience in life sciences and commitment to the environment have led to his dedication to creating a more sustainable future.