Tim Morris launches our Canada Water Week series. Watch all week for more articles on events and organizations across Canada!
Why am I so excited about Canada Water Week? Well, when we first conceived of bringing people together for the inaugural Canada Water Week, we had no idea it would generate the level and diversity of interest that it has. The idea was sparked by an event we're organizing in Toronto for World Water Day (March 22) with a group of former world leaders (known as the InterAction Council), and it got us thinking about all the terrific activities that typically happen around World Water Day.
Wouldn't it be great, we thought, if there was an entire week leading up to this day in which local organizations and citizen groups in Canada could demonstrate their passion and support for healthy rivers and living lakes at home and abroad. We were thrilled to find willing conspirators in WWF-Canada and Living Lakes Canada, two organizations taking direct action to achieve these goals nationally, and globally through their international networks. Together, we set about making a home for the week.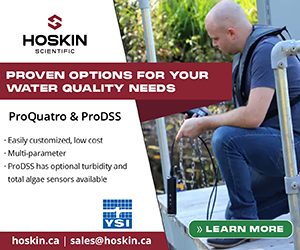 In four short months, Canada Water Week was born and there are now over 100 events taking place from coast-to-coast-to-coast in every province and territory of the country. Although I work for an organization that has supported and partnered with a lot of amazing groups working on water, and I knew more were out there, I had no idea how much water has captured the imagination of so many different interests in society. As well as celebrating water and recognizing the importance of protecting our rivers and lakes, Canada Water Week has emerged as a festival for arts, music, film, and most importantly, our kids. As just a taste of some of the inspiring events taking place:
Arts: In Vancouver, Water Beneath Our Feet – Mapping the Spirit of the False Creek Watershed marks the official release of the community's finished watershed map. In Quebec City, the ONE DROP Foundation is showcasing a special water mural at the Museum of Civilization.  And in Winnipeg, Rodney Braun is a hosting an art exhibit and launching his new book, H2Ohhhh!, a spectacular collection of underwater photography.
Music: The Lake Winnipeg Foundation has organized the Healthy Rivers, Living Lakes concert (March 20), a first for Winnipeg, that will bring together well known musicians , comedians, poets, and some stunning artworks from the Arts of Water project. And the Canadian premiere of Strange and Mysterious Water is being played by the University of Saskatchewan Wind Orchestra.
Film: A new documentary film, White Water, Black Gold, is being launched during the week, and there are numerous other documentaries being shown at film screenings across the country.
Kids: There are a number of school projects and events taking place during Canada Water Week. One of my favourites is Will One Drop Make a Difference? The Culture of Our Water where students at Bridlewood Kindergarten in Calgary are learning the significance of water by asking their parents about their memories of water from growing up in cultures and countries around the globe.
I encourage anyone reading this blog to become part of this growing water movement by finding out what's happening near you on the Canada Water Week website and attending an event.  You can also donate to some amazing water projects through our partnership with the Small Change Fund and join the water talk through Twitter, Facebook, and by posting your favourite water photos or your cell phone shots of events on our FlickR pool. And don't forget to check out the new national water blog, Our Living Water. In other words, get your feet wet in Canada Water Week—it will be fun!
Tim Morris is program manager for Fresh Water Protection at the Walter and Duncan Gordon Foundation, a co-host of Canada Water Week with WWF-Canada and Living Lakes Canada. (Tim was also featured in our first annual Water's Next supplement! –Ed)