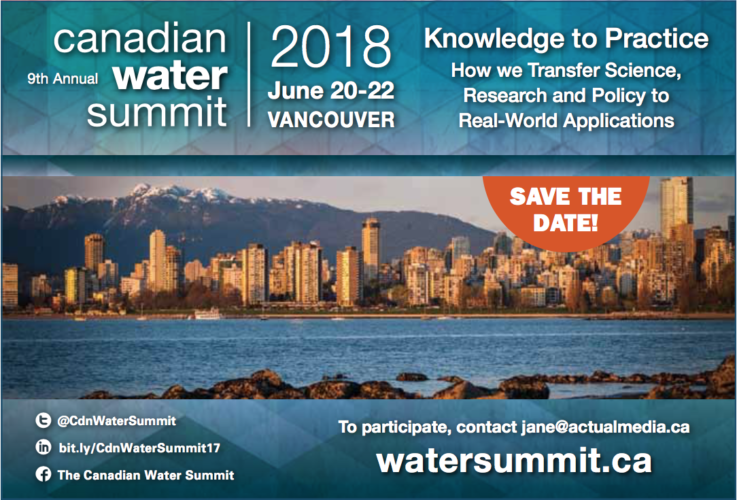 Posted on September 19, 2017
Organization: Blue Events Inc. and Water Canada
The 9th Annual Canadian Water Summit
June 20, 2018 8:00 am to June 22, 2018 4:00 pm
Knowledge to Practice: Transferring Science, Research and Policy to Real-World Applications
Growing Canada's blue economy requires smart people who are thinking and innovating, but also transferring that knowledge into practical business applications and processes. Canadian Water Summit 2018 will focus on how the R&D of universities, technology providers, NGOs and governments, as well as Traditional Knowledge, is being applied in the business of water across industrial sectors, including agriculture, manufacturing and natural resources.
Building off the successes of 2017, we will invite national and provincial water associations back in 2018 to continue their dialogue and alignment to help break down silos within the water sector and strengthen bonds and common objectives. Delegates in 2018 will engage in a program the focuses on identifying knowledge and opportunities to transfer research and bench-scale projects to policy and actions for "blue economy" growth and climate change resilience.
If you have an idea for a presentation or speaker that you would like to see on the 2018 program, please connect with us. We will be reaching out to our sponsors, supporters and partners soon to decide on a host city and venue, but in the meantime, lock down the dates and we will see you next year as we showcase real-world applications and demonstrate the value of applied research to the advancement of Canada's water industry and our global presence in this sphere.