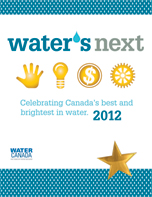 Water Canada magazine is pleased to launch its second annual publication dedicated to recognizing Canadian leadership in water.
In this year's edition of Water's Next, you'll read about the people and ideas that are making a difference in Canada's waterscape and beyond—from Josephine Mandamin's personal pledge to raise awareness of Great Lakes protection, to iDUS Controls' second generation of efficient irrigation technology, to Clearpath Robotics' unmanned monitoring robot, to WEHUB's online water data dissemination program.
Congratulations to the featured nominees for their hard work and commitment to making safe, healthy water resources a priority! For the full list of honourees, see below. For more details and all profiles, visit Water's Next here.
People
Josephine Mandamin (Ontario), First Nation elder and founder of the Women's Water Walk
Brent Wootton (Ontario), director and senior scientist of the Centre for Alternative Wastewater Treatment, Fleming College
Terry Rees (Ontario), executive director of the Federation of Ontario Cottagers' Associations
Kevin Freedman (Manitoba), founder of the 25-Litre Water Challenge
Karen Bakker (British Columbia), Canada Research Chair in Political Ecology, University of British Columbia
Innovation
Advancing Canadian Wastewater Assets (Alberta)
The iDUS G-100 (British Columbia)
The Snug Cove Wastewater Treatment Plant (British Columbia)
The ROC Barrier (Ontario)
Education for Water Stewardship Program (Manitoba)
Business
Clearpath Robotics (Ontario)
Vinci Consultants (Quebec)
Golder Associates (Global)
Aquality (Alberta)
Coca-Cola Corporation (Global)
Projects
The National Water and Wastewater Benchmarking Initiative (National)
Algoma Orchards (Ontario)
The POLIS Water Sustainability Project (British Columbia)
The Water and Environmental Hub (Alberta)
Toronto's Wet Weather Flow Master Plan (Ontario)
Regular Water Canada subscribers will receive a print version of Water's Next 2012 with their copy of the January/February issue, hitting mailboxes the week of January 9.